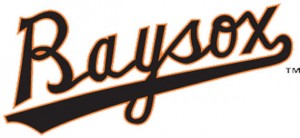 After an opening night 14-inning defeat two days prior, the Baysox turned the tables on Richmond on Saturday night, grabbing their first victory in a 7-6 14-inning affair. The ballgame finished just past midnight, with reliever Mychal Givens coaxing a groundball for the game's final out.
Bowie grabbed the lead in the top of the 14th. With Richmond having to resort to infielder Rando Moreno on the hill, the Baysox mounted a two-out rally. RF Quincy Latimore popped a fly down the right field line that fell fair for a double. Then DH Mike McDade hit a hard ground ball near the first base bag. It caromed off the glove of diving first baseman Angel Villalona into shallow right field scoring Latimore with the lead run.
The game started with a strong performance from RHP Parker Bridwell. After allowing three runs in the first inning and a leadoff double in the second, Bridwell settled in. He retired the final 12 batters he faced to finish a five-inning effort. Bridwell fanned nine batters in the game.
Fast forward to the game tied at 6-apiece and it turned into a battle of bullpens. Kenn Kasparek, Gene Escat, Ceasar Cabral and Mychal Givens paired together to keep Richmond at bay before the Baysox rallied for a run to win it in the 14th.
Baysox catcher Rossmel Perez had a big night. He registered four hits including a two-out, two-run single in the seventh inning that pushed the Baysox to a 6-4 lead at the time.
The Baysox continue the series and opening road trip in Richmond on Sunday afternoon for the series finale. First pitch is set for 1:35 p.m. with RHP Branden Kline making his season debut for Bowie. Coverage begins 1430wnav.com and the Tune-In Radio App with the Trunnell Law Pre-Game Show.
Opening Night in Bowie will be Thursday, April 16th at 6:35 p.m. as the Baysox host Erie. For tickets, purchase online at baysox.com. 
[do action="blackwall-hitch"/]