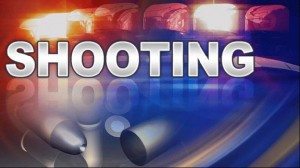 On April 10, 2015 at approximately 2:20 a.m. officers from the Eastern District responded to the area of 720 College Parkway East to assist an officer who was checking a suspicious person. The officer was not responding to his radio.
Upon their arrival, an officer located an Anne Arundel County Police Officer several hundred feet from the 7-Eleven business. The officer was suffering from what appeared to be a gunshot wound to his upper body. Eye on Annapolis has confirmed that ballistic vests are standard issue with the Anne Arundel County Police Department and the officer involved was wearing his vest; however, the wound was in an area that is not protected by the vest.
Preliminary investigation revealed that the officer went to the 7-Eleven store, for a routine business check, and was told by a witness that a person was outside of the business acting suspicious. The officer went to investigate where he encountered a male suspect. During the officer's investigation, some type of altercation ensued and the suspect fled and the officer followed him.
Witnesses described hearing at least one gunshot. It appears the suspect shot the officer and fled the scene. The suspect apparently had a weapon of his own and did not use the officers weapon to shoot him. Arriving officers immediately notified emergency medical services and began to render aid. The officer was transported to University of Maryland Shock Trauma in Baltimore where he is listed in critical condition.
The suspect is described as a black male, approximately 5'4"-5'8", 20-30 years old, wearing a dark "hoody" and dark pants that are not jeans. It is unknown whether he fled on foot or in a vehicle.
Members of the Criminal Investigations Division have assumed the role as primary investigators. Numerous units responded to assist in the search for the suspect and evidence.
Forty-three members of our police recruit class also came to the scene to assist. We do not believe the suspect is in the area where the shooting occurred.
This is the first Anne Arundel County Police Officer shot in the line of duty since July of 2008, when an officer was shot in Brooklyn Park. There have been no fatal shootings of officers in Anne Arundel County Police Department history.
This remains a very fluid and active investigation.