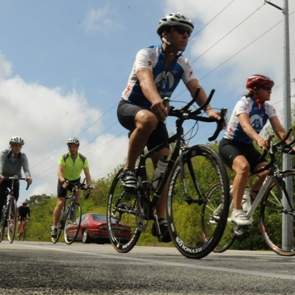 In advance of warmer weather the Annapolis Police Department announces a new initiative to prevent bicycle thefts.  The new program called P.E.D.A.L. is an acronym for Photograph, Engrave, Document, And Lock.
In 2014 bicycle thefts and burglaries in which bicycles were stolen accounted for 83 Part One crimes.  Part One crimes are homicide, rape, robbery, assault, burglary, theft, motor vehicle theft, and arson.  Annapolis had an average of 95 Part One crimes a month last year meaning bicycle thefts accounted for almost an entire month's worth of crime.  There has been a significant increase in bike thefts over the last few years. The worst months are May, June, July, and August.
Last year the Annapolis Police Department launched an online Watch Your Bike Program so residents could record their bicycle information with the police department.  This program makes the information quickly accessible if the bicycle is stolen and increases the chance of it being returned to the owner.
The Annapolis Police Department is asking citizens to P.E.D.A.L. to stop bicycle theft.  Photograph your bicycle, use your cell phone and include photos of any writing on your bicycle, anything distinctive, and the serial number.  Engrave personal information like your name or phone number on the frame of the bicycle.  Document all the details of your bicycle, make, model, serial number, color.  You can do this with the online Watch Your Bike Program at www.annapolis.gov/police.  And Lock your bike to a fixed object when you are out and about.   When you're at home make sure you place your bike out of public view or put it in a locked garage or shed, or use a lock to secure it.  Even leaving your bicycle unattended and unlocked for a few minutes can leave it open to thieves.
Now is the perfect time to think about what you can do to keep your bicycle safe when the weather is warm.  If you received a bicycle as a gift this year, now is the right time to take steps to safeguard it.  Remember to P.E.D.A.L. to stop bicycle theft.  For more information about this program or to get help entering your bicycle into our online database contact the Annapolis Police Department at 410-268-9000 or [email protected].   
[do action="blackwall-hitch"/]