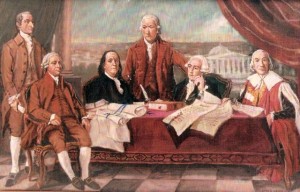 The new Treaty of Paris Center's next session will be on Saturday, March 7 from 11:00am – 3:30pm with a theme of "The Mount Vernon Compact Between Maryland and Virginia," the first step toward the Constitutional Convention, featuring a lecture by noted historian and professor Dr. Russell J. Rockefeller in the Treaty of Paris Restaurant from 2:30pm – 3:30pm.
The Treaty of Paris Center in Annapolis, inside the Maryland Inn next to the Treaty of Paris Restaurant on Main Street, brings the 1783-87 Treaty of Paris Period to life—the time between the end of the Revolutionary War and the start of the Constitutional Convention—through reenactments, lectures, films, exhibits, interactive computer screens, walking tours and souvenirs (there are two new walking tours and five new films for March 7). Admission to the Treaty of Paris Center is FREE! A complete itinerary can be found on our website: www.treatyofpariscenter.org .   
The walking tours follow in the footsteps of Washington (resignation from the Army), Jefferson and Monroe (ratifying the Treaty of Paris) and Madison and Hamilton (leading the 1786 Annapolis Convention at Mann's Tavern), including two evening events: a pub crawl of the places that connect us to these men and a ghost tour of where Mann's Tavern once stood.
COMING SOON: A reenactment of the signing of the Treaty of Paris is scheduled for  March 19 with a FREE performance by nationally acclaimed Ben Franklin historical interpretive actor Christopher Lowell, along with John Jay and John Adams. They will also reenact Washington's retirement ceremony at the annual fundraiser gala on December 17 entitled "General George Washington's Resignation Dinner and Reenactment Ball".
Come visit the Treaty of Paris Center—and RE-discover how Annapolis served as a Bridge between the Revolution and the Constitution.
[do action="blackwall-hitch"/]