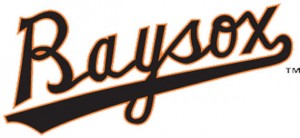 The Bowie Baysox have announced  that their lovable mascot Louie is ready for March Madness and he is again celebrating it with pie. Louie's Pie Madness extravaganza will feature two special pre-season ticket offers leading up to the Baysox in-season celebration of Pi(e) Day Friday, April 17 at 6:35 p.m.
Promotions Manager Chris Rogers is the brains behind Pie Madness. "We are excited to be able to celebrate the math constant (pi) and the delicious dessert (pie) during the month of March for a fourth year," Rogers said. "I know how many of our fans have a sweet tooth and a fresh pie from Bowie's Best Pie Company along with 2015 Baysox tickets is the best way to satisfy that craving. Plus, fans won't want to miss our annual Pi(e) Night on April 17 where we'll honor student mathematicians and pay homage to our favorite dessert."
The Baysox have partnered with Bowie's own Best Pie Company to provide pies to the first 30 fans to purchase an $88 Fielder's Choice pack by visiting www.baysoxshop.com before Friday, March 27. The Fielder's Choice pack includes eight Box Seat tickets that can be used in any amount at any game and during this special limited time offer, the Baysox will also include your choice of a fresh baked apple, key lime or three berry (blueberry, blackberry and raspberry) pie with the ticket pack purchase. Louie or another Baysox staff member will personally deliver your fresh pie within a 25 mile radius between 1 and 5 p.m. Monday-Friday during the month of March.
Finally, on Pi Day, Saturday, March 14 (3.14), the Baysox are offering General Admission seat tickets to any of the first six games of the 2015 season for $3.14 using the special ticket code PIE314 (limit four per transaction) when ordering on baysox.com. Through this special offer that will run from noon Friday, March 13 through Saturday, March 14, a family of four will have the opportunity to attend an early season Baysox game for less than $13.
Baysox Baseball – We'll Knock Your 'Sox Off. The Baysox open the 2015 season, their 23rd as the class Double-A Affiliate of the Baltimore Orioles, on the road April 9 and play their home opener Thursday, April 16 against the Erie SeaWolves. To keep up with Baysox news during the offseason, visit baysox.com.
[do action="blackwall-hitch"/]
Category: LIFE IN THE AREA, Post To FB, Sports