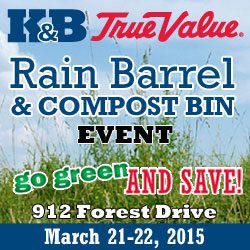 As part of its ongoing commitment to the community and environment, K&B True Value, in partnership with Sustainable Annapolis, is again hosting its annual Rain Barrel and Compost Bin Event this Saturday and Sunday, March 21st and 22nd.  In addition to offering rain barrels and compost bins at half price, K&B True Value will have experts on hand to give homeowners advice on how to best use these environmentally-friendly products. K&B True Value will also offer free delivery of barrels and bins to local customers.
Stormwater runoff is a primary source of pollution in the Chesapeake Bay. A rain barrel collects and stores water from roofs that would otherwise carry a variety of pollutants into the Chesapeake Bay within a short period of time. Rain barrels collect the naturally soft rainwater from a roof, which can then be used to water lawns and flower beds or wash cars during dry periods. According to the Maryland Department of Natural Resources, a rain barrel will save homeowners about 1,300 gallons of water during peak summer months. Rain barrels are not only good for the environment, but also save homeowners money and energy with a decreased demand for tap water. In addition, both the City of Annapolis and Anne Arundel County offer homeowners tax credits for rain barrels.
Compost bins provide a way to recycle a households' organic waste such as fruit and vegetable scraps, eggshells, tea bags, coffee grounds, dryer lint, mulched leaves, dried grass, and other yard waste. Compost is rich with micro-organisms which break down fertilizers to be more easily utilized by plants, and can actually repair the damage done by chemical use. It's estimated that the average single family home could divert 600 pounds of waste from landfills using an Earth MachineTM Backyard Compost Bin, a featured product at the event. 
"Because we live in the heart of Chesapeake Bay country, it is extremely important to use Bay-friendly gardening products," said K&B True Value owner, Jared Littmann. "That is why we take great pride in our ability to provide sustainable solutions that are both effective for consumers and benefit the environment at the same time. This event gives us a lot of personal satisfaction because we know that it makes a difference to the health of the Bay."
K&B True Value, located at 912 Forest Drive in Annapolis, has been serving the community since 1974. Committed to service both in the store and the community, K&B True Value carries a wide variety of environmentally-friendly products, hosts a variety of community based events including an Earth Day program each spring.
[do action="blackwall-hitch"/]