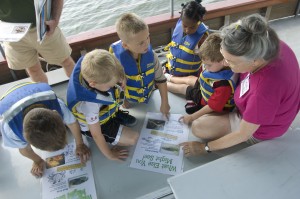 Beginning June 15 and continuing through August 10, the Chesapeake Bay Maritime Museum is offering week-long, half day, Chesapeake-themed camps for children 4-9 years of age. Led by a CBMM educator, campers explore the magic of the Chesapeake Bay's people, animals, and watercraft through fun and interactive activities, stories, games, and crafts.
Camps for children 4-5 years of age are offered during the weeks of June 15, July 6, and July 27; camps for children 6-7 years of age are offered the weeks of June 22, July 13, and August 3; and children 8-9 years of age are offered camps the weeks of June 29, July 20, and August 10.  During the half-day sessions, children will also explore CBMM's 18-acre Miles River waterfront campus, its exhibitions, and historic boats.
Daily camps take place from 9:30 a.m. to 12:30 p.m. for each age group. Camps fill fast, with pre-registration needed. The cost for the week-long camp is $125 for CBMM members, or $150 for non-members. For more information, visit www.cbmm.org/learn/kids-club/ or contact Allison Speight at 410-745-4941 or [email protected] to register.
[do action="blackwall-hitch"/]