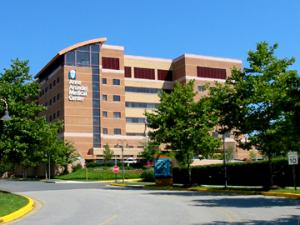 When it comes to a heart attack, time is muscle. That means the faster a healthcare team can identify the problem and open a blocked artery, the faster oxygen is restored to the heart the more heart muscle is saved. This is why rapid diagnosis and treatment of patients experiencing heart attack symptoms is critically important. Opening a heart attack patient's blocked artery with an angioplasty balloon 90 minutes after arrival is a standard quality indicator for hospitals nationally. At Anne Arundel Medical Center (AAMC), the average time is 57 minutes.
AAMC has been recognized for its quick and efficient treatment of heart attack patients and identifying those at risk with an advanced level of accreditation as a Chest Pain Center.  The Cycle IV Chest Pain Center with PCI (percutaneous coronary intervention, or angioplasty) accreditation from The Society of Cardiovascular Patient Care (SCPC) emphasizes the importance of standardized diagnostic and treatment programs used in the care of patients with chest pain and other heart attack symptoms. In addition to rapid diagnosis and treatment, it remains critically important at AAMC to also identify patients who are at risk for having a heart attack before that event ever occurs.
"This is a significant achievement," said William Maxted, MD, medical director of the Chest Pain Center.  "It is the result of a large number of people from numerous departments working together as a team to provide state-of-the-art care to cardiac patients at AAMC."
The accreditation demonstrates that AAMC is providing nationally recognized standards for quality patient care, which includes having dedicated interventional cardiologists, and nurses and technologists trained in rapid response and treatment of heart attacks to reduce heart muscle damage. It also demonstrates AAMC's commitment to continuous process improvement for all patients who present with symptoms of advanced heart disease.
For the community served by AAMC, this means that processes are in place that meet strict criteria aimed at:
Reducing the time from onset of symptoms to diagnosis and treatment.

Treating patients more quickly during the critical window of time when the integrity of the heart muscle can be preserved.

Monitoring patients when it is not certain that they are having a heart attack to ensure that they are not sent home too quickly or needlessly admitted to the hospital.
Heart disease remains the leading cause of death in the United States, and approximately every 34 seconds someone has a heart attack. EMS providers are an important part of the Chest Pain Center team at AAMC and all chest pain centers, providing vital patient assessment and stabilization in transit to the hospital. People experiencing signs of a heart attack, such as tightness in the chest, pain or discomfort in the neck, jaw or arms, or shortness of breath, or fatigue should call 9-1-1 immediately. 
[do action="blackwall-hitch"/]