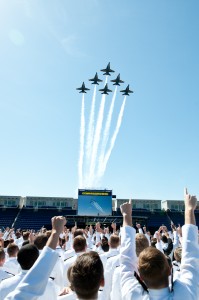 On Saturday, Jan. 31, nearly 50 surviving children of America's fallen military will experience "A Day in the Life of a Midshipman" at the U.S. Naval Academy (USNA) with the Tragedy Assistance Program for Survivors (TAPS). The children, ranging from ages 4 to 19, will learn about leading and mentoring others, overcoming adversity, and being physically fit.
The first of its kind, this partnership between the USNA and TAPS will provide young survivors from the Virginia, DC, and Maryland areas with the military connection that so many lose after the death of a loved one in service to our nation. Midshipmen from the USNA will take part in this one-day event as part of a Martin Luther King, Jr. Day-related service project.
"We are proud to partner with the U.S. Naval Academy to empower our young survivors," said Bonnie Carroll, Founder and President of TAPS. "This event will give the children an opportunity to connect with future leaders of our U.S. Navy and show them that their loved one's sacrifice is remembered and honored."
Like TAPS Regional Seminars and Good Grief Camps across the country, "A Day in the Life of a Midshipman" will offer each child a one-on-one experience with a mentor to learn coping skills, build new friendships, reconnect with the military, and honor their fallen hero. Throughout the day, midshipmen will teach the youth about the Academy's history. The young survivors will learn how it relates to their loved ones' legacy of service and is also a special part of our nation's history.
[do action="blackwall-hitch"/]