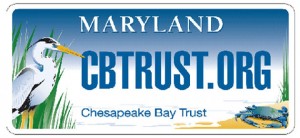 Last week, the Chesapeake Bay Trust will announce the recipients of its 2015 Annual Awards Program at a ceremony held in the Maryland General Assembly. During the event, more than 150 Chesapeake Bay supporters will join Maryland legislators to honor six exceptional teachers, students, and environmental leaders for their outstanding contributions to education, Bay restoration and volunteerism. Launched in 1998, the Chesapeake Bay Trust's Annual Awards Program recognizes awardees each year for a variety of environmental leadership roles and achievements.
"Tonight's Legislative Reception provides a wonderful opportunity for the Chesapeake Bay Trust to showcase the incredible achievements of our grantees through these awards to Maryland legislators, partners and supporters," said Dr. Jana Davis, executive director of the Chesapeake Bay Trust. "We applaud tonight's award winners and all of our grantees who are improving the local waters of the Chesapeake region and our communities each and every day."
The Chesapeake Bay Trust is a nonprofit, grant-making organization dedicated to improving the waters of the Chesapeake Bay, its tributaries, and local communities through environmental education, community outreach, and watershed restoration. Funded in part by Maryland's Treasure the Chesapeake license plate program, the Trust has awarded more than $70 million in grants since its inception to fund on-the-ground restoration and education efforts in every county in Maryland, Baltimore City and throughout the larger Bay watershed. During tonight's event, six awardees will be recognized by the Trust for their exceptional environmental work in Maryland specifically, and will also be provided citations by their local legislators to recognize their achievements and environmental contributions to their respective communities.
The Chesapeake Bay Trust's 2015 Annual Award winners include:
2015 Dr. Torrey Brown Award: The Honorable Harry R. Hughes
Former Governor of Maryland
This year the Trust honors former Governor Harry H. Hughes for his lifelong commitment to the restoration of the Chesapeake Bay and its tributaries. Hughes served as governor from 1979 to 1987 after 17 years in the General Assembly, as well as six years as the first secretary of the Department of Transportation. In these positions, he was a tireless leader on Bay restoration issues and championed the Critical Areas Act, among many other accomplishments. The Dr. Torrey Brown Award, named after one of the Trust's founding board members who was also a friend of Hughes, recognizes an individual each year who has shown extraordinary leadership to improve the Chesapeake Bay and local communities.
2015 Ellen Fraites Wagner Award: Larry Coffman
Prince George's County Department of the Environment
The Trust recognizes Larry Coffman who retired in 2014 after 40 years of services as deputy director of Prince George's County Department of the Environment and other roles in the community. In his role, Coffman oversaw the development of the department's innovative urban stormwater management programs and is nationally recognized as an expert on stormwater and bay-friendly urban development. Coffman will receive the 2015 Ellen Fraites Wagner Award which was created in 1998 to honor Ellen Fraites Wagner, an aide to former Governor Hughes, who was a tireless advocate for the Chesapeake Bay and the environment.
2015 Educator of the Year: Deanna Wheeler
J.C. Parks Elementary in Charles County
Deanna Wheeler is a fourth and fifth grade teacher at J.C. Parks Elementary where she leads environmental education efforts at a school-wide scale. Wheeler oversees multiple restoration projects each year including converting turf to native plants, raising bay critters in the classroom, and implementing outdoor experiences for her students. In addition to being named the Trust's 2015 Educator of the Year, Wheeler will also receive a $2,500 grant for her school to use for environmental education programs.
2015 Student of the Year: Samuel Zabronsky
Sandy Spring Friends School in Montgomery County
Samuel Zabronsky is a senior at Sandy Spring Friends School where he was selected to manage Trout Unlimited's educational programming at his school, as well as educate students about native species while also serving as a volunteer counselor focused on inspiring youth to embrace conservation. Zabronsky, who was also one of only 25 high school students from around the country to be selected as national teen conservation leader, was chosen as this year's Student of the Year which includes a $5,000 scholarship for college.
2015 Honorable Arthur Dorman Scholarship: Danielle Holt
Western School of Technology & Environmental Science in Baltimore County
Danielle Holt is a senior at Western School of Technology and Environmental Science where she ranks third in her class with a magnet focus on environmental science. Holt is a member of her school's Green Team, she is active in her student government association, and in her spare time plants trees on campus, cleans up trash, and joined the recycling team starting in middle school. She is the recipient of this year's Honorable Arthur Dorman Scholarship which is named in honor of the late Senator Arthur Dorman who played a large role in bringing Trust grant programs to a greater diversity of communities in Maryland. This scholarship is given annually to a student of color and Holt will also receive a $5,000 scholarship for college.
2015 Melanie Teems Award: Camp Letts Watershed Restoration Initiative
The YMCA and West/Rhode Riverkeeper in Anne Arundel County
This collaborative project was implemented to help reduce nutrient and sediment pollution from entering the Rhode River at Camp Letts, an outdoor camping retreat for students located in Edgewater, MD. This initiative has included many stages, including stormwater projects, agricultural best management practices, shoreline stabilization, the creation of a living shoreline, installation of interpretive signage, and planting with students from Anne Arundel County schools, among other efforts. The Trust created its Melanie Teems Award, which is named after its longest serving staff member, to honor an exceptional program or project that is improving local communities and protecting Maryland's natural resources.
[do action="blackwall-hitch"/]
Category: Crime News, LIFE IN THE AREA, Local News, NEWS