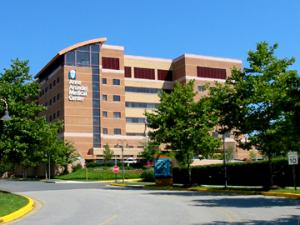 When 19-year-old Shawnese Stockdale recently gave birth, she found herself in the unfortunate situation of having insurance for herself but not her daughter, who was under observation in Anne Arundel Medical Center's (AAMC's) neonatal intensive care unit. Stockdale, a college student and employee at Waffle House restaurant, has health insurance through her mother's job but grandchildren aren't allowed on the plan. She didn't realize her daughter qualified for Medicaid coverage until an AAMC nurse told her. Right there at the hospital, an AAMC hospital financial advocate then set her daughter up with temporary Medicaid coverage.
Effective October 1, 2014, some Maryland hospitals, including AAMC, can now enroll people for what's called Hospital Presumptive Eligibility (HPE). In most cases, within two days, the person is granted temporary Medicaid coverage and upon being discharged, is able to obtain needed prescriptions and continuing care for two months. This allows the state of Maryland sufficient time to process the full application so that by the time the temporary coverage expires, the individual is fully enrolled in Medicaid.
When she learned she could get coverage for her newborn almost immediately, Stockdale says she was relieved. "I was very worried about how I would pay my baby's healthcare bills," she says. "It's expensive. It's not even practical. I don't want bad credit."
While the new legislation allows any Maryland hospital to enroll people in Medicaid with Hospital Presumptive Eligibility, staff needs formalized training and must pass a knowledge test through the Maryland Department of Health and Mental Hygiene. (Read more about the training requirements here.) AAMC was able to implement it more quickly than other hospitals because of its existing, self-sufficient infrastructure, with financial advocates in place already enrolling people in Medicaid.
"Our goal is to enroll people for coverage and help them be proactive about their care," says Tori Bayless, president and CEO of AAMC. "We are finding that there are still many people in the community who aren't aware they are eligible for Medicaid under the expansion that went into effect in January 2014 as part of the Affordable Care Act."
The temporary Medicaid coverage is a win for both medically underserved community members and hospitals. It expedites care for people and it allows hospitals to be paid for services provided so they can continue to care for the community.
"Having coverage helps people gain access to care and prevent them from using the ER as the only place to get medical help," says Bayless.
As Maryland gears up for open enrollment through the health insurance exchange, it's important to remember that Medicaid enrollment is open year-round and a significantly higher number of people are now eligible because of the Medicaid expansion that went into effect in January 2014.
Hospital financial advocates have a responsibility to thoroughly screen people for HRE and may only enroll on hospital grounds. A person does not need to be a hospital patient to get enrolled in temporary coverage.
"This is just one way we are helping our community improve health," says Mitchell Schwartz, MD, chief medical officer at AAMC. "We partner with several organizations with a common goal of making healthcare accessible and affordable." For example, AAMC was recently honored by the Annapolis City Council for its work with the Housing Authority of the City of Annapolis (HACA), which includes operating health clinics within communities they are meant to serve, where need is among the highest.
Community members are encouraged to call 443-481-1782 to speak with a financial advocate at AAMC and make an appointment to come in and review healthcare coverage options including Medicaid.
[do action="blackwall-hitch"/]