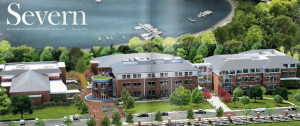 Severn School's three divisions – Upper, Middle and Lower Schools – are each gathering items representative of their school to bury in a time capsule to go under the new Teel Academic Center rotunda. The capsule will be placed within the rotunda foundation within the next couple of weeks.
"This historic cache of goods will give a glimpse into life at Severn School in 2014," commented Headmaster Lagarde. "While this treasure chest of history likely won't be opened for generations, the thought of preserving a piece of the present for the future is appealing and fun for the students."
Part of the extensive construction project underway at Severn School, the rotunda will be the new main entrance to Severn School's Teel Campus, and is to feature the names of all Severn graduates.
The Upper School Student Council debated about what to include to represent the Severn teens of today. While the final outcome has yet to be announced, items in the running include a yearbook and an Ipod.
The Lower School will include something small from the 3D printer with the accompanying design process information, a memory booklet, a Lower School yearbook, and a uniform shirt.
The Middle School Student Council and Community Life members put their collective heads together and determined that they would include one item for each grade. Sixth graders will add a soccer ball; seventh graders will gather menus from their favorite restaurants; and eighth graders chose to include a pair of Vans sneakers and a cell phone.
Severn School is the oldest and largest independent school in Anne Arundel County.
[do action="blackwall-hitch"/]
Category: Local News, NEWS, OPINION