[do action="schuh"/]
The Annapolis & Anne Arundel County Conference and Visitors Bureau is always on top of everything in Anne Arundel County and they have sent us this list of special events and anniversaries and happenings this fall!  Grab your pencils and mark your calendars!
There's a lot that's new in Annapolis and Anne Arundel County, Maryland this fall and winter. To make it easy for area residents and vacationers to be in the know, the Annapolis & Anne Arundel County Conference and Visitors Bureau (AAACCVB) has compiled a sampling of some of the latest attractions and experiences that beckon travelers in the months ahead. For a complete listing, visit the Annapolis and Chesapeake Bay website at www.VisitAnnapolis.org.
What's New with Events
October 17-November 1 – While Watermark offers ghost tours throughout the year, it is teaming up with Historic Annapolis to offer a special tour on Fridays and Saturdays through November 1. Visitors are led by candlelight through the streets of downtown Annapolis and into one of the City's notoriously "haunted" buildings, the William Paca House (seen on Psychic Kids). Guests will visit the "sick room", a place many people entered, but not all left alive. The tour departs from the Historic Annapolis Museum Store at 99 Main Street. http://annapolistours.com/our-tours/historic-ghost-walk/, 410-268-7601.
October 18-19 – Quiet Waters Park's Arts and Music Festival has a new name – Art in the Park. The festival features local and national original artwork from more than 70 exhibitors in 14 categories. It's a weekend filled with music, art demonstrations, activities, barbecue and specialty food and beverages. Local artist Nancy Hammond will be previewing the 2015 annual Chesapeake Poster at the festival. http://fqwp.org/event/arts-and-music-festival, 410-222-1777.
October 19 –Organizers of the Oyster Festival at the Captain Avery Museum in Shady Side are doubling the size of their raw oyster bar and are adding more shuckers to reduce lines at the 16th annual event. In anticipation of larger crowds, they are adding places for overflow parking at the Shady Side ball field, increasing the amount of handicapped parking, and are adding shuttles from lots at Brightview South River Assisted Living and South River Martial Arts. http://captainaverymuseum.org/, 410-867-4486.
October 25-November 1 – Annapolis 1864, a sesqui-centennial celebration of the Abolishment of Slavery in Maryland, will be taking place at various locations throughout downtown Annapolis. Presented by the Annapolis Commission on Maryland's 3rd Constitution and the Abolishment of Slavery, the weeklong schedule of activities includes: a black union soldier encampment on 10/25; an opening reception on 10/27; exhibits and lectures on 10/28; a lecture by author John Stauffer on 10/29; a first person interpreter performing Four Women of Annapolis on 10/30; a libation ceremony on 10/31; and a quilt unveiling and celebration/awards gala on 11/1. http://fourriversheritage.org/annapolis-1864/, 410-222-1805.
November 15 –Chesapeake Harbour Marina will be hosting Annapolis' premiere Striped Bass Fishing Tournament, Rocksgiving, at Chesapeake Harbour Marina. The event will benefit the Bowen Foundation for Autism and the Chesapeake Bay Trust. Prizes will include $100,000 for a striped bass that breaks the Maryland state record (67.8 lbs.), $10,000 for the first striped bass weighing more than 55 lbs. delivered to Chesapeake Harbour Marina, and several other prizes. Rocksgiving will kick off on Friday, November 14, with a Captain's happy hour hosted by Sam's on the Waterfront from 6:00 p.m. until 8:00 p.m. Saturday's tournament begins at 7:00 a.m. and boats must be dockside by 4:00 p.m. Following the tournament, Sam's on the Waterfront will host a post-tournament party and awards ceremony from 4:00 p.m. until 8:00 p.m.
www.chesapeakeharbourmarina.com, 410-268-1969.
What's New with the Arts
Maryland Hall for the Creative Arts completed the first phase of an $18-million renovation project in September 2014. The $2-million project modernized and improved the performing arts wing of the facility. It included renovation of the theatre's orchestra level seating and improvements to the stage's proscenium as well as cosmetic modifications to the stage designed to enhance the patron/performer experience. The theatre renovations focused on improving acoustics, lighting and sight lines to the stage as well as providing new, comfortable seats with more leg room. The entire $18-million multiphase facility modernization will include renovation of the main theatre, construction of two theatre wings, creation of a new 150-seat community theatre and the addition of several flexible gathering spaces. www.marylandhall.org, 410-263-5544.
Star-Spangled Banner Stamp – While Baltimore was celebrating the 200th anniversary of the Battle of Baltimore in September 2014, the U.S. Postal Service was unveiling a stamp commemorating the defense of Fort McHenry against British attack and Francis Scott Key's writing of a poem that became our National Anthem. Artwork for the stamp was created by Annapolis artist Greg Harlin. The official name of his creation is the War of 1812: Fort McHenry Forever stamp. http://uspsstamps.com/stamps/war-1812-fort-mchenry.
West Arundel Creative Arts was established as a non-profit 501c(3) non-profit, community-based organization in July 2014. Headquartered at 8381 Piney Orchard Parkway in Odenton, West Arundel Creative Arts' (WACA) mission is to bring arts opportunities to the West County area of Anne Arundel County, Maryland – including the areas of Odenton, Crofton, Severn, Hanover, Gambrills, and Laurel. WACA will be providing classes, workshops, and performances relating to the performing and fine arts. Another core mission is to provide the types of programs the community wants and needs at an affordable price. www.wacarts.com, 443-827-2989.
What's New with Restaurants 
Arturo's Trattoria – Since opening Arturo's Trattoria in September 2014, chef/owner Arturo Ottaviano has been bringing to Northern Anne Arundel County the same delectable Italian coastal cuisine that established his flagship restaurant, Osteria 177, on Main Street in Annapolis. Located at 1660 Crain Highway South in Glen Burnie, the new restaurant specializes in quality, fresh-daily seafood, prime cuts of meat, homemade pasta and local produce. Its cozy, yet elegant atmosphere makes Arturo's Trattoria it ideal for special occasions, business functions and private events. Ottaviano's newest restaurant is in the same location as the former Trattoria Alberto, which was a long-time staple for high-quality Italian fare. Arturo's Trattoria continues in the tradition, while adding unique, creative and surprising menu options. http://www.arturostrattoria.com/, 410-761-1500.
Bean Rush Café – In the summer of 2014, Bean Rush Café opened at 112A Annapolis Street in West Annapolis at the site of the former b. b. Bistro. In addition to providing small batch roasted coffee, owners Mark and Shannon Abrahams are selling signature brewed coffees, loose leaf teas, sandwiches, salads and pastries at the 1,250-square-foot restaurant. The couple also owns the Bean Rush Café in Crownsville. www.beanrushcafe.com, 410-263-2534.
Blackwall Hitch Restaurant opened in Eastport in May 2014 at the site of the former Rockfish Restaurant. Serving modernized land and sea cuisine, the restaurant at 400 Sixth Street offers rooftop dining, along with a bright, comfortable and eclectic interior. In August, Blackwall Hitch welcomed Chef Joseph Zagami. The Paris-trained chef will be introducing a new menu in fall 2014. http://theblackwallhitch.com/, 410-263-3454.
Cha Cha Chicken opened on Forest Drive in Annapolis in the summer of 2014. The restaurant is home to authentic Peruvian charcoal broiled all-natural rotisserie chicken. Owners Stefanie and Gennaro DiBenedetto offer a combination of Peruvian and American specialties, affordable prices and a casual atmosphere for lunch and dinner. www.cha-cha-chicken.com, 443-837-6127.
Cumberstone Ice Pops – Tracey King opened Cumberstone Ice Pops in Harwood in May 2013. She makes her pops with local ingredients that she harvests from her neighbor's farm and her own. The pops are chemical, preservative, gluten and dairy free. When she needs sugar, she uses organic evaporated cane juice, agave or honey. Instead of artificial sweeteners and high fructose corn syrup, she uses handcrafted infusions, purees and emulsions that are made from scratch each week in small batches of a dozen or less. Tracey and her family typically sell more than 250 popsicles a week. In the first year alone, she has offered more than 25 different flavors. In season, pop lovers can find her tasty treats on Tuesdays at the Anne Arundel County Farmers Market at Riva Road and Harry Truman Parkway and Wednesdays at the Piney Orchard Farmers Market in Odenton. Individuals who need a Cumberstone Ice Pop fix year-round, will find them at the Bean Rush Café in West Annapolis, Annebeth's on Maryland Avenue in Annapolis and at Greenstreet Gardens in Lothian. www.Cumberstoneicepops.com, 443-995-4705.
5 Waterside – The former Calypso Bay Boatyard Bar & Grill at Herrington Harbour North will be re-opening with a new name and a new look in 2015. 5 Waterside at 421 Deale Road in Tracys Landing will feature farm-to-table cuisine with a focus on the bounty of the Chesapeake Bay. The restaurant will include a waterfront tiki bar, dining in the sand and a new fire pit that will extend the season when the weather cools. The year-round, family-oriented restaurant plans to continue the tradition of offering what many of its patrons consider to be the Best Orange Crushes on the Bay. https://www.facebook.com/CBontheBay, 410-867-9787.
Galway Bay Irish Restaurant and Pub – In the summer of 2014, Galway Bay Irish Restaurant and Pub began offering live Irish music in the bar on Sunday afternoons from 3:00 p.m. until 7:00 p.m. Now patrons who come for Sunday brunch between 10:00 a.m. and 2:00 p.m. might just decide to stay for the live music that kicks off at 3:00 p.m. www.GalwayBayMD.com, 410-263-8333.
Iron Rooster opened at 12 Market Space (the site of the former Maria's Restaurant) in Annapolis on Thursday, October 9. It serves Southern comfort food for breakfast, lunch and "supper" in a country kitchen atmosphere, with breakfast available all day long. Featuring soul music from the 50s, 60s and 70s, the restaurant's vintage farmhouse atmosphere is unassuming and unpretentious. Restaurant Principal Kyle Algaze says his team focuses on hospitality, rather than "service." The 200-seat restaurant includes a second floor with exposed brick walls, hardwood floors, a working fireplace and a door that opens onto a balcony with a view of City Dock. As the highest building in Market Space, the Iron Rooster offers a fine view of the Annapolis waterfront and Historic District. www.ironroosterallday.com, 443-261-5920.
Killarney House – In September 2014, the Irish Restaurant Company unveiled a new solar energy system at its 584 West Central Avenue restaurant. The Davidsonville restaurant's rooftop supports 93 electricity-generating photovoltaic panels and 14 hot water-producing thermal panels. The $260,000 project also included the addition of a slab for the hot water tank and roof reinforcement. The Killarney House's photovoltaic panels are connected to power inverters on the side of the building that are connected to a net meter. The goal is to produce enough solar energy to make the electricity meter run more slowly. Some days the meter might even run in reverse – when the solar produced power goes into the local grid. The addition of solar panels is the latest in the Irish Restaurant Company's efforts to be a good steward of the planet. Its restaurants – Galway Bay, Brian Boru and the Killarney House recycle, use biodegradable to-go trays and straws, energy efficient lighting systems and water-saving equipment, along with a composting program. http://killarneyhousepub.com/contactkh.html. 410-798-8700.
Mason's Famous Lobster Rolls opened at 188 Main Street in Annapolis in May 2014. Mason's serves authentic lobster rolls made with fresh meat they tout as coming directly from Portland, Maine. Diners at Mason's can choose a lobster BLT or opt for lobster, shrimp and crab rolls. If they prefer, they can have their seafood served without the roll over mixed greens. Their soups include New England clam chowder and lobster bisque. http://www.masonslobster.com/, 410-280-2254.
Luk Fu Restaurant has been bringing the flavors of Southeast Asia to Maryland Live! Casino since it opened in June 2014. From dim sum, traditional congee and pho, to wok-fried and steamed noodles, Luk Fu offers authentic dishes that span generations. Located in the middle of the casino floor, the 80-seat restaurant is decorated in red and gold – colors that signify luck, joy, prosperity and wealth in the Asian culture. Diners can choose to take advantage of the open seating plan that offers views of casino action or they can opt for counter seating that puts them close to the open "show kitchen" where they can watch Luk Fu's master chefs in action. Leading the culinary team is Chef Joseph Ku, who brings more than 30 years of professional culinary experience to Luk Fu. www.marylandlivecasino.com/dining/luk-fu/, 443-842-7000.
Rams Head Tavern introduced a new happy hour program, "Three, Two, Free," in September 2014. Guests now enjoy $3 draft beers and $2 off any wine or liquor of their choice Monday through Friday from 4:00 p.m. until 7:00 p.m. Rams Head's tradition of free Happy Hour food continues from 5:00 p.m. until 7:00 p.m. and now includes Rams Head favorites, including meatballs and potato skins. Monday's Happy Hour offers meatballs; Tuesday includes oysters, mussels or shrimp; Wednesday features beef, ham or turkey; Thursday brings potato skins; and Friday continues with wings. The Rams Head Group's Annapolis and Chesapeake Bay locations include Rams Head Tavern in Annapolis and Rams Head Roadhouse in Crownsville. www.ramsheadgroup.com, 443-482-9277.
Two Rivers Steak and Seafood will be opening a private banquet room adjacent to its 4105 Mountain Road restaurant in Pasadena, Maryland in the fall of 2014. The new 3,500 square facility will include a full-service bar, dance floor, audio-visual capabilities and ample parking. Two Rivers plans to use the new space for hosting weddings, showers, rehearsal dinners, parties, meetings and seminars. Two Rivers serves certified Angus Beef, fresh seafood, and custom baked goods. http://www.tworiverssteak.com/, (410) 360-1919.
Victoria's Fancy Foods in Severna Park is the newest certified grocer in Anne Arundel County's Restaurant Stewardship Certification Program. The independent gourmet grocer specializing in local clean foods and fine crafted wines opened in its new location at 550 Ritchie Highway in the Park Plaza shopping center in February 2014. It received its certification in the summer of 2014. "Clean" means raised or produced without the use of pesticides, herbicides, antibiotics, growth stimulants or artificial ingredients. All meats sold at Victoria's are humanely raised and pastured in fields. Owner Victoria Stagmer has been recognized for getting certified with SafeServ and removing all products containing high fructose corn syrup, GMO's and hormones from her inventory. She has also invested in Low E insulating glass windows. http://victoriasfancyfoods.com, 410-384-WINE.
Zona Cocina Restaurant opened at BWI Thurgood Marshall Airport in May 2014. Located on the site of the former Zona Mexicana Restaurant, the space has been completely redesigned and transformed with a new décor, expanded menus and additional seating. With a focus on the "cocina" (kitchen), the new Latin-inspired restaurant offers freshly prepared, authentic Mexican food. Zona Cocina makes dishes from scratch, honoring traditional cooking techniques. The updated menu boasts regional preparations emphasizing the fresh, healthy aspects of Mexican cooking. Among the restaurant's specialties are fresh-made signature salsas, salads and soups, big burritos, tacos, fajitas and hand-shaken margaritas. www.airmallusa.com, 410-850-4846.
What's New with Accommodations
Best Western Plus BWI Thurgood Marshall Airport North – Formerly the Sleep Inn and Suites BWI, the property underwent a $2.5 million renovation and was rebranded in July 2014. Featuring interior corridors, the 145-room property has 90 double queen rooms and 2,000 square feet of meeting space. A great location for groups, the hotel provides a complimentary breakfast buffet and motor coach parking. The Best Western Plus is located less than a half mile from Baltimore's North Linthicum Light Rail Stop, and just five miles from M&T Bank Stadium, the home of Ravens' football and Oriole Park at Camden Yards. www.bestwestern.com/PLUSBWIAirportNorthInnSuites, 410-789-7223.
Chesapeake Bay Beach Club in Stevensville, Maryland is planning to build a new 54-room luxury boutique hotel in 2015. The Inn at the Beach Club will feature meeting and event space and a farm-and-bay-to-table restaurant. www.baybeachclub.com, 410-604-1933.
The Chesapeake Beach Resort & Spa improved its beachfront in the summer of 2014 by adding tons of white sand, new beach lounge furniture and a dance floor on the beach. The new venue is located between the Boardwalk Café and the Band Shell performance stage. The resort plans to add a new outdoor waterfront wedding ceremony location for couples. It will make its debut at Chesapeake Beach Resort & Spa's Waterfront Bridal Show in the spring of 2015. www.cbresortspa.com, 410-257-5596.
Comfort Inn & Suites BWI – After being closed a few years for renovations, the Comfort Inn & Suites BWI is slated to open by winter 2014. In the course of a $3-million renovation, the property has been reconfigured to include more suites. Connected by interior corridors, the 161-room property offers 100 double rooms and 4,000 square feet of meeting space, including an executive boardroom. Along with motor coach parking, the hotel offers a complimentary breakfast buffet. The property is located less than a half mile from Baltimore's North Linthicum light rail stop and five miles from M&T Bank Stadium, the home of Ravens' football, and Oriole Park at Camden Yards. www.comfortinn.com/hotel-baltimore-maryland-MD410, 410-789-9100.
What's New with Services
A Better You – In May 2014, Dr. Karen Clarke opened A Better You at 1114 Town Center Boulevard in Odenton. In addition to providing family medicine, the wellness center offers spa treatments as well as integrated health services including acupuncture and more. www.abetteryou-llc.com, 410-672-2700.
An Extraordinar Limousine, Inc. – In the summer of 2014, An Extraordinar Limousine began offering four- and six-hour Maryland Ice Cream Trail packages. The package includes transportation to Maryland's eight dairy farms. Once at the farms, tour goers can opt for tours of the dairy farms and ice cream at their own expense. www.bigcars.com, 410-437-8200.
Annapolis Green has launched Responsible Events and Festivals (REF)…Make the right call. Launched in July 2014, REF focuses on helping sports-related activities and tournaments held in the Chesapeake Bay watershed to go green. REF offers levels of involvement – small to big steps that can help put an event on an eco-friendly footing. With the goal of educating and inspiring groups and organizers, REF provides a toolkit that includes information on launching communications campaigns as well as sample documents, contacts and connections to local waste haulers. It also lets event organizers know how they can access REF's branded eco-stations for recycling and composting. www.annapolisgreen.com, 410-703-2697.
Annapolis Urban Adventures – In July 2014, Annapolis Urban Adventures assumed ownership of eCruisers, LLC under the new banner, Urban Eventours. Owned by George and Judy Palmer, Urban Eventours offers a wide array of fun ways to get around Annapolis. The company uses electric-powered eCruisers to take people where they need to go. Focusing in part on special events and reunions, Urban Eventours offers a fun way to take couples to popular spots for wedding photography en route to their reception. Urban Eventours provides transportation to and from conference venues, shopping and restaurants. The company also transports attendees from hotels to special events – including Navy football games and the U.S. Sailboat and Powerboat Shows. Annapolis Urban Adventures continues to use its eCruisers to offer tours of Annapolis via its new City View Tour that offers visitors a quick way to get acquainted with Maryland's capital city. http://www.annapolisurbanadventures.com, 443- 510-1348.
AnnapolisNOW App – There's an App for that! The Annapolis & Anne Arundel County Conference and Visitors Bureau launched an AnnapolisNOW App in September 2014. It's designed to help visitors make the most of their time in Annapolis and the Chesapeake Bay by providing them with immediate access to the information they need. From dining and lodging, to shopping and nightlife, to tours, attractions and events, the AnnapolisNOW App connects users with what they want to know NOW. Whatever they're looking for, smartphone users are sure to Find It Here – on the App! www.VisitAnnapolis.org, 410-280-0445.
Art Farm – In June 2014, photographer Alison Harbaugh and artist Stacey Turner joined forces to open a large, open studio space in the Arts District of Uptown Annapolis at 47-B Spa Road next to the Compass Rose Studio Theater. Since opening the shared gallery-classroom-studio space, the duo have been staging exhibits and offering a variety of classes for individuals of all ages, including beginner guitar and ear training and photography workshops. They have also held summer camps for beginner guitar and photography. Art Farm's goal is to be the place for creative minds and talents of all ages that offers a variety of classes, visionary events and stellar gallery space. http://www.artfarmannapolis.com, [email protected].
BWI Thurgood Marshall Airport – In June 2014, all operations for Air Canada shifted from the International Terminal to Concourse D at Baltimore Washington International Thurgood Marshall Airport. Air Canada flights now depart from Gate D7. The airline's ticketing takes place on the upper level of the terminal, between concourses C and D. www.bwiairport.com, 410-859-7111, 410-859-7027.
BWI Thurgood Marshall Airport – Alaska Airlines began offering nonstop, year-round transcontinental service between BWI Marshall Airport and Seattle in September 2014. The new carrier at BWI flies one daily round-trip between BWI Marshall and the airline's hub at Seattle-Tacoma International Airport on its Boeing 737-800 aircraft. www.bwiairport.com, 410-859-7111.
BWI Thurgood Marshall Airport has moved its cell phone parking lot to a new, larger location along Terminal Road at Scott Drive, adjacent to the BWI Marshall daily garage. The new location is directly across Terminal Road from its old location and about a block from Aviation Boulevard (Route 170). The relocated cell phone lot offers roughly 100 parking spaces – double the amount available at its former site. With the move came additional spaces in the BWI Marshall express parking lot, since the old cell phone lot was created by taking spaces from the express parking lot. www.bwiairport.com, 410-859-7111.
BWI Thurgood Marshall Airport – Southwest Airlines began offering two new seasonal nonstop flights to Portland, Oregon and Oakland, California in June 2014. Portland is a new market for BWI travelers. The new flights to Oakland are designed to complement other flights to the San Francisco area. www.bwiairport.com/, 410-859-7111.
BWI Thurgood Marshall Airport – Southwest Airlines plans to add nonstop service to Central America, with the first flight scheduled from BWI to San Jose, Costa Rica in 2015. Pending approval from the U.S. Department of Transportation, the airlines plans to begin providing service from BWI to Juan Santamaria International Airport in Central America on March 7. www.bwiairport.com/, 410-859-7111.
BWI Thurgood Marshall Airport – Southwest Airlines launched its first-ever scheduled international flights in July 2014 from BWI Airport. Southwest now provides nonstop service between BWI Marshall and three international markets: Aruba, Montego Bay and Nassau. The routes shifted July 1 from AirTran Airways, a subsidiary of Southwest. Southwest has provided air service from BWI for more than 20 years. BWI Marshall is the third busiest airport in the Southwest system, and the largest on the East Coast. East coast. www.bwiairport.com/, 410-859-7111.
BWI Thurgood Marshall Airport – Spirit Airlines added a seasonal nonstop flight between Baltimore and Chicago in May 2014. The daily flight departs Chicago O'Hare International Airport at 8:00 a.m. and arrives at BWI at 10:55 a.m. a return flight departs Baltimore at 8:55 p.m. and arrives in Chicago at 9:56 p.m. The flight will operate until November 1. www.bwiairport.com/, 410-859-7111.
BWI Thurgood Marshall Airport – It pays to visit BWI Thurgood Marshall Airport. Beginning in the summer of 2014, travelers passing through the airport had the option of earning frequent flyer miles and hotel rewards points – even if they never set foot on an airplane. Under a new partnership with the Georgia-based rewards company, Thanks Again, shopping, dining and parking at BWI is now tied to airline and hotel rewards programs. Now, when BWI travelers pay for parking, buy a gift, or enjoy a meal at BWI, they'll have the option of earning additional miles or points with their favorite airline or hotel chain. After registering a credit or debit card under the program, http://www.thanksagain.com/BWI, members will earn one airline mile or two hotel points for every dollar they spend at the airport. www.bwiairport.com/, 410-859-7111.
BWI Thurgood Marshall Airport – Area residents and/or travelers with time between flight connections can exercise while they wait. In August 2014, BWI announced a pilot bike share program in partnership with Zagster, a company that provides turnkey bike sharing services. Ten self-serve bikes may now be reserved outside the airport's international terminal, near the BWI Marshall Airport light rail stop. Zagster riders pay a daily rate of $5 for up to 12 hours of use. Customers may also purchase a monthly pass for $15 or an annual pass for $50. BWI Marshall offers a 12.5-mile scenic outdoor trail that encircles the airport property. The trail was completed in 1994. BWI Marshall was the first major U.S. airport to offer a dedicated hiker-biker trail. www.bwiairport.com/, 410-859-7111.
BWI Thurgood Marshall Airport is making it easier for travelers to keep their electronic devices charged and ready to go. In June 2014, the airport added three large charging stations on Concourse D. Created by converting three banks of old pay phones, the charging stations offer 184 new outlets and USB ports for passengers to charge their cell phones, laptops, tablets and other personal electronics. The locations for the new charging stations are: adjacent to Gate D7, across from the Greene Turtle Restaurant; adjacent to Gate D20, across from the food court; and adjacent to Gate D23, near the Be Relax Spa. www.bwiairport.com/, 410-859-7111.
City Running Tours began offering guided running tours in Annapolis in March 2014. Designed to strike a balance between Annapolis' maritime heritage and the amenities of a vibrant, small city, the individual and group tours provide a local's perspective of the city while participants exercise and engage with one another. The company offers
Pre-planned routes as well as customized routes catering to runners' requests. Pre-selected routes include: a Colonial Heritage Tour through Annapolis' Historic District; an Annapolis Maritime Tour that takes runners over the Spa Creek Bridge and through the Maritime Republic of Eastport; and a Naval Academy and St. John's College Tour that introduces runners to the area's two centers of higher learning. The new franchise is managed by husband and wife Charles Goldblum and Beth Robbins. http://www.cityrunningtours.com/annapolis, 877-415-0058.
Kayak and canoe access point – A ribbon cutting in July 2014 marked the official opening of a new access point for kayaks and canoes at Shady Side Park in southern Anne Arundel County. The new, wider trail allows easy access to the water. Individuals need only park in the lot and look for a new fence along the tree line. The Water Access Committee of South County has worked with Anne Arundel County Recreation and Parks to get the access point open to the public. http://www.aacounty.org/recparks#.VDrWfS3D97o, 410-222-7000.
Kosmo Nail Bar officially opened with a June 2014 ribbon cutting at its Annapolis store.
Located at 40 Randal Street, the family-owned business is a professional, hygienic and affordable nail salon that teases its customers with a mock bar selection. Kosmo offers a "Manitini" Bar that provides a number of manicures and a "Peditini" Bar for pedicure services. While no alcoholic beverages are served, Kosmo offers a host of services including artificial nails, waxing, eyelash extensions and even a Bambi Bar that provides services for kids age 12 and under. www.kosmonailbar.com, 410-268-0128.
Port of Baltimore – Crystal Cruises luxury cruise line plans to begin offering its first-ever scheduled embarkation sailing from the Port of Baltimore onboard the Crystal Serenity on November 8, 2014. The eleven-day, one-time cruise will board passengers in New York on November 5 and arrive in Baltimore on November 8. The ship will welcome new passengers from Baltimore during the day, depart from Maryland that evening, sail down the East Coast, stop in Norfolk and Charleston, head for the Caribbean and conclude the voyage in Miami. http://www.mpa.maryland.gov/, 1-800-638-7519.
Port of Baltimore – Carnival Cruise Lines has announced plans to return to the Port of Baltimore. In March 2015, the cruise line will resume seven-day, year-round cruises onboard the Carnival Pride ship from the Port of Baltimore. The vessel will return to Maryland with new air emission reduction technologies and a host of new dining, bar, and entertainment options. When it returns to Baltimore, the Carnival Pride will be equipped with exhaust gas-cleaning technology, known as scrubbers. Scrubbers are designed to reduce air emissions from cruise ships and other marine vessels. Carnival Pride's itinerary from Baltimore will again offer popular destinations including the Caribbean, Bahamas and Central Florida. http://www.mpa.maryland.gov/, 1-800-638-7519.
What's New with Attractions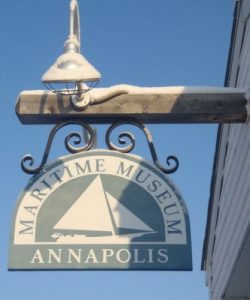 The Annapolis Maritime Museum introduced a new Critter Hour in May 2014. The free, no registration necessary, drop-in program is offered every first Thursday of the month from 4:00 p.m. until 5:00 p.m. Grab your boots and be prepared to get wet and muddy as participants explore oyster habitats, catch crabs and wade in the water to catch Chesapeake Bay critters. Activities vary each month and are appropriate for family members of all ages. www.amaritime.org, 410-295-0104.
The Annapolis Maritime Museum – In August 2014, the Annapolis Maritime Museum opened a Treasures of NOAA's Ark exhibit that showcases artifacts representing the science, service and stewardship of the National Oceanic and Atmospheric Administration and its predecessor agencies. The exhibit includes 19th-century maps and charts and early scientific instruments that recall the agency's heritage and legacy. The traveling exhibit will remain on display at the museum through October 31, 2014. The Treasures of NOAA's Ark temporary exhibit highlights major themes including history, weather, navigation, fisheries and the Chesapeake Bay. www.Amaritime.org, 410-295-0104.
The Annapolis Maritime Museum has a new rain garden. Funded by the Chesapeake Bay Trust and installed by Museum volunteers, the rain garden provides flood control and prevents nutrients and other pollutants from washing into the Chesapeake Bay. In addition to adding beauty to the site, the garden's native plants attract wildlife. Regular flooding used to plague the area where the rain garden now exists. Since the planting, there have been no major flood issues. www.Amaritime.org, 410-295-0104.
Arundel Mills Mall – A Public Safety Corridor Station is being built at the largest outlet and value retail shopping destination in Maryland. Scheduled for completion in fall 2014, the station is designed to provide the best possible experience for the millions of guests who visit the area annually. It is the result of the combined efforts of Arundel Mills Mall, Maryland Live! Casino and the Anne Arundel County Police Department. The nearly 15-year-old mall's existing security program features an interior and exterior video surveillance system, a roving security team with a fleet of assorted gas, electric and pedal-powered vehicles, mobile security towers, 24-hourpolie presence and ongoing staff education. The new public safety station will be located on the west side of the mall adjacent to the existing mall security offices. www.arundelmills.com, 410-540-5100.
B&O Railroad Museum entered into a formal sisterhood agreement with the Railway Museum in Saitama City, Japan in September 2014. The affiliation will enable the museums to exchange collections, expertise, technology, personnel, education programs and best practices and to collaborate on international railway projects. The two museums are planning a coordinated international marketing campaign to draw travelers from East to West and from West to East. In 2012, Trains Unlimited in the 21st Century said the B&O Railroad Museum and the Railway Museum, Saitama City were among the top ten railroad museums in the world. www.borail.org, 410-752-2490.
B&O Railroad Museum – Decorative repairs to the B&O Railroad's National Historic Landmark Roundhouse are expected to be completed by year's end. Work on the decorative architectural woodwork elements on the clerestory and lantern of the roundhouse began in August 2014. The museum is operating on its regular schedule during the repairs. A series of harsh winters with extensive freezing and thawing – along with the hot summer sun, wind and rain – have taken a toll on the wooden architectural elements that rise 125 feet above the ground. www.borail.org, 410-752-2490.
The Banneker-Douglass Museum – As part of its 30th Anniversary Celebration, the Banneker-Douglass Museum unveiled a permanent installation, Peace Be Within These Walls in August 2014. The 1984-2104 story of the Banneker-Douglass Museum will be on display through December 20, 2014. www.bdmuseum.maryland.gov, 410-216-6180.
Historic London Town and Gardens – In the summer of 2014, Historic London Town and Gardens debuted its new Sound and Sensory Garden featuring year-round, outdoor instruments for visitors to play. A variety of activities and stations equipped with several xylophone-type instruments encourages visitors of all ages to interact more deeply with nature. www.historiclondontown.com, 410-222-1919.
Maryland Live! Casino began offering its patrons the chance to win $1-million-dollars when it introduced a new $1-million double gold slot machine in August 2014. The machine enables players to place a maximum bet of $500. Maryland Live! has introduced more than 200 new slot machine game titles to the casino floor over the past year, including the first $500 Double Diamond Deluxe game which gives players a chance to win a half-million-dollar jackpot, and the 98-percent payout version of the popular Blazing 7s game, available for the first time in Maryland through Maryland Live! www.Marylandlivecasino.com, 443-842-7000.
Maryland State House – Renovations to the Old Senate Chamber are scheduled for completion in December 2014. The renovations began in 2007, when architectural historians made significant discoveries about the original appearance of the room. When the restoration is complete, the chamber will appear as it did at the time Congress met in the room in 1783 and 1784. The furnishings and portraits traditionally displayed in the Old Senate Chamber will be returned to the State House for the reopening of the Old Senate Chamber to the public in December 2014. These items include John Shaw furniture and Charles Willson Peale's large portrait of Washington, Lafayette and Tilghman at Yorktown. The items will be incorporated into new exhibits that will interpret Washington's resignation (December 23, 1783) and the ratification of the Treaty of Paris (January 14, 1784) – both of which took place in the Old Senate Chamber. The current renovations mark the first time in a century that the Old Senate Chamber has undergone a major restoration. http://msa.maryland.gov/msa/mdstatehouse/html/home.html.
Terrapin Adventures – In August 2014, Terrapin Adventures opened a new Kids' Course right next to its adult course. Owner Matt Baker says the course is designed for children ages 5 to 9 years of age. He sees the course as a new party venue and a place where kids can challenge themselves, gain confidence, get exercise and fly through the air. www.terrapinadventures.com, 301-725-1313.
U.S. Naval Academy – Visitors to the U.S. Naval Academy have one more memorial to see. In May 2014, the U.S. Naval Academy and representatives of the Ancient Order of Hibernians formally dedicated a Commodore John Barry Memorial located just inside the Barry Gate of the Naval Academy. The Ancient Order of Hibernians felt so strongly about the need to appropriately honor the Irish Catholic Barry that it spearheaded fundraising efforts with Irish groups across the country to raise monies for construction of the eight-foot-tall granite and bronze memorial. It honors the Wexford, Ireland native that President George Washington personally presented with the first commission in the newly formed U.S. Navy in 1794. The first phase of the John Barry Memorial Project, construction of the Barry gate, was completed in January 2012. www.usnabsd.com/for-visitors/, 410-293-8687.
U.S. Naval Academy – Vice Admiral Walter E. "Ted" Carter took over as Naval Academy Superintendent during a change of command ceremony at the Naval Academy in July 2014. As part of the ceremony, outgoing superintendent Vice Admiral Michael Miller retired after serving 40 years in the U.S. Navy. www.usna.edu, 410-293-2292.
U.S. Naval Academy – Visitors to the U.S. Naval Academy will soon have another option for leaving the "Yard." The Naval Academy is installing a new turnstile gate along the Naval Academy wall on Hanover Street near the Academy's Gate 3. Designed for the convenience of academy residents returning to the Yard after the pedestrian gate closes at 7:00 p.m. Sunday through Thursday and at 8:00 p.m. on Fridays and Saturdays, the new turnstile gate will be available 24 hours a day. Admittance through the new gate will require a Department of Defense (DOD) ID card, but everyone will be able to exit the gate without a DOD ID. The gate is expected to be completed and open for use in the fall of 2014. www.usnabsd.com/for-visitors/ 410-293-8687.
U.S. Naval Academy – The U.S. Naval Academy Museum at Preble Hall is expanding its audio tour to include foreign languages. At present, visitors can learn about 30 different museum artifacts in Spanish as well as English. The Naval Academy Languages and Cultures Department is working with the Museum to produce two-minute audio recorded descriptions of the 30 artifacts in Arabic, French, German, Japanese, Russian and Mandarin by January 2015. Visitors will be given a map of the museum with tour instructions and the locations of the 30 artifacts. The displays combine historical artifacts with video and audio technology to bring to life the stories of men and women who have served our country at sea. The Naval Academy Museum receives more than 125,000 national and international visitors per year. http://www.usna.edu/Museum/, 410-293-2108.
William Paca House and Garden – Visitors to the two-acre reconstructed 18th-century pleasure garden behind the home of Declaration of Independence signer William Paca may well have noticed a number of changes to the garden this past summer. Just in time for the spring 2014 season, Historic Annapolis added lighting to the garden, including spotlights on the summer house and bridge, lights on the garden steps, and new lighting on the front and back terraces of the Paca House. Now, individuals attending evening events in the Paca Garden can enjoy and explore it even after nightfall. In April 2014, Historic Annapolis replaced the flower parterre and replanted it with hibiscus, irises, day lilies, veronica, and asters. The new perennial selection is designed to provide color throughout the growing season. At the same time, brick pads were added at the top of each set of steps in the central alley. They were adorned with pots of vibrant red mandevilla vines. The wilderness area beyond the garden pond was cleared and garden volunteers planted 400 native wildflower perennials in September 2014. The fruits of their efforts should be seen when the creeping phlox, wild pinks, foam flowers, turtle head and ferns come up next spring. Flowers aren't the only things replaced this year. The garden's signature Chippendale bridge was rebuilt in April 2014. http://www.annapolis.org/, 410-267-7619.
What's New with Retail
Annapolis Harbour Center – Athleta opened its first Anne Arundel County store at the Annapolis Harbour Center in August 2014. The 4,820 square foot athletic store offers Athleta's collection of women's active lifestyle apparel for yoga, running, swimming, gymnastics, hiking and skiing, among other items. Founded in 1998, Athleta is a premium fitness and lifestyle brand for women, outfitting female athletes for athletic pursuits. Other recent store openings at the Harbour Center include Pure Barre, a lifestyle fitness studio, and For Eyes Optical. www.annapolisharbourcenter.com, 410-266-5857.
Annapolis Maritime Antiques at 128 Severn Avenue in Eastport held its grand opening in September 2014. The store owns the world's largest collection of authentic World War II Liberty Ship hatch covers, which it turns into one-of-a-kind nautical furniture in its woodworking shop. Annapolis Maritime Antiques creates dining tables, end tables, sideboards, desks, benches and shelving perfect for beach houses, coastal retreats, and/or nautical themed homes, offices, clubs and businesses. Their stock includes a large assortment of nautical decorative items and authentic nautical antiques from around the world. www.annapolismaritimeantiques.com, 410-268-7490.
Artist's Framer – After more than eight years in business at 905 Bay Ridge Avenue in Eastport, the Artist's Framer moved to a new Eastport location at 619 Severn Avenue, Suite 103, in May 2013. Located near the corner of Sixth Street and Severn Avenue, the store offers a wide selection of frames and mats. In October 2014, the Artist's Framer celebrated its tenth anniversary of preserving and protecting memories. www.artists-framer.com, 410-269-1229.
Arundel Mills Mall – In the summer of 2014, Journeys Kidz and a first-in-market outlet from the PUMA store opened at Arundel Mills Mall. Journeys Kidz is a branded kids' footwear store that targets kids from ages 5 to 12. It's located in Neighborhood 1, near Medieval Times Dinner & Tournament. The PUMA store held its grand opening in June 2014. It's located in Neighborhood 3, near H&M and Modell's Sporting Goods. Torrid opened in October 2014. Specializing in plus-size apparel and accessories for women, Torrid features on-trend clothing, sleepwear, footwear, intimate apparel and more. The new store is located in Neighborhood 2, between Finish Line and Tilly's.   www.arundelmills.com, 410-540-5100.
Cleo's Fine Oils and Vinegars – In August 2014, Cleo's Fine Oils and Vinegars introduced olive oil in a caviar-like presentation at the Annapolis Towne Centre in Parole. Caviaroli smells and tastes like extra virgin olive oil, but it bursts onto the palate like caviar. It is an encapsulated olive oil that mimics the delicate composition of caviar. Created in 2008 in the kitchen of famed Spanish chef Ferran Adria, the retail olive oil caviar is also produced in Spain. www.Cleosfineoils.com, 410-266-5540.
Oh My Darling Consignment Boutique held a ribbon cutting at its 47 Maryland Avenue store in Annapolis in August 2014. Owned by well-known DC political consultant and writer Amy Darling, The high-end consignment boutique offers women's designer clothing for cost-conscious shoppers. Oh My Darling sells new and like-new items in an inviting, upscale environment that evokes the feel of a high-end boutique. Amy's focus is on luxury women's clothing and accessories. http://www.ohmydarlingboutique.com/#!about/c9iz, 410-263-1555.
U.S. Naval Academy Commissary – Naval Support Activity Annapolis held a grand opening ceremony for a new commissary and Navy Exchange complex across from the current facility on Kinkaid Road in September 2014. The LEED Silver certified complex has increased the size of the commissary from 25,800 square feet to approximately 51,500 square feet and the size of the Navy Exchange from 37,200 square feet to approximately 98,500 square feet. The new complex includes an outdoor garden area, barber and beauty shops, optical store, jewelry store and a food court. The new complex also has a Navy Federal Credit Union. Commissaries and Exchanges are open to active duty military members, retirees and their families. http://www.usna.edu, 410-293-2292.
Westfield Annapolis – In June 2014, Westfield Annapolis announced the opening of two new stores: Kokopelli is located in the Nordstrom wing of the mall, and Kids Foot Locker is located on level One near Spencer Gifts. www.westfield.com/annapolis/, 410- 266-5432.
WRABYN Women's Boutique officially opened its doors at 12 Annapolis Street in West Annapolis in November 2013. The women's clothing and accessories shop features fashions from a curated selection of designers. The focus is on helping patrons to discover and enhance their signature style. Wrabyn welcomes private events and personal styling sessions by appointment. http://wrabyn.com/, 410-267-0757.
Significant Anniversaries
Artist's Framer – In October 2014, the Artist's Framer celebrated its tenth anniversary of preserving and protecting memories. www.artists-framer.com, 410-269-1229.
The Banneker-Douglass Museum in Annapolis is celebrating its 30th anniversary in 2014. www.bdmuseum.maryland.gov, 410-216-6180.
The Caritas Society of St. John's College kicked off its 45th anniversary year in September 2014. www.sjc.edu/caritas, 410-972-4505.
Chesapeake Bay Beach Club in Stevensville is celebrating its 15th anniversary in 2014. http://www.baybeachclub.com/, 410-604-1933.
Ellen Allen Annapolis celebrated its fifth anniversary in October 2014. Designer Ellen Allen has studio hours at her 111 Chinquapin Round Road showroom store on Wednesdays from 10:00 a.m. to 5:00 p.m. or by appointment. She specializes in handbags, scarves, serving pieces, glassware and handmade silver featuring her signature rockfish. The Ellen Allen signature brand of lifestyle products includes the use of durable fabrics, vibrant colors and classic stripes, combined with patterns inspired by Annapolis Architecture. Locally known for many years for her interior design work, Ellen Allen recently introduced accessories and giftware lines to complement the handbags, which feature her iconic, proprietary patterns. http://ellenallen.com/, 410-216-7080.
Maryland Hall for the Creative Arts is celebrating its 35th anniversary in 2014. http://www.marylandhall.org/, 410-263-5544.
The Mitchell Gallery at St. John's College in Annapolis is celebrating its 25th anniversary in 2014. http://www.sjc.edu/programs-and-events/annapolis/mitchell-art-gallery/, 410-626-2556.
Phillips Seafood Restaurants celebrated its 100th anniversary with an event at its Phillips Seafood Annapolis location at 14 Dock Street on July 15, 2014. http://www.phillipsseafood.com/, 410-280-2722.
The U.S. Sailboat Show celebrated its 45th year with its October 9-13, 2014 show. http://www.annapolisboatshows.com/united-states-sailboat-show/, 410-268-8828.
Kudos 
J/80 2014 World Championship — Sailors for the Sea has certified the J/80 2014 World Championship a "Clean Regatta." The certification means several best practices benefitting the Chesapeake Bay were used for the September 28 through October 4 regatta hosted by the Eastport Yacht Club. On site for the regatta, Annapolis Green, a local non-profit organization that promotes sustainability in the Annapolis area, provided its "eco-stations" that are designed to encourage recycling and composting. Based in Newport, Rhode Island, Sailors for the Sea "greened" the last America's Cup. http://j80worlds2014.org/. http://sailorsforthesea.org/. http://www.annapolisgreen.com/.
Watermark Cruises was recognized by the United States Coast Guard for excellence in vessel maintenance, safety, and crew proficiency at the annual United States Coast Guard Sector Baltimore Industry Day. Watermark maintains the largest private fleet of yachts in the Chesapeake Bay region – offered for private charter and public sightseeing cruises in Annapolis and Baltimore. Most boats in its fleet are United States Coast Guard-certified vessels. This means each passenger vessel undergoes rigorous safety inspections annually. http://www.watermarkcruises.com/, 410-268-7601.
The AAACCVB is a nonprofit, membership-based, destination marketing organization that generates revenues for the local economy by promoting Annapolis and the Chesapeake Bay to leisure and business travelers across the country and around the world.
[do action="blackwall-hitch"/]