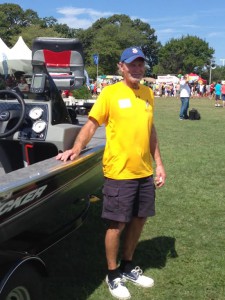 The Maryland Department of Natural Resources presented more than $70,000 in cash, prizes and merchandise to lucky anglers this morning at the 2014 Maryland Fishing Challenge Finale. Nearly 2,000 people, including sponsors, contestants and their guests, attended the celebration of fishing, held in conjunction with the Maryland Seafood Festival at Sandy Point State Park in Annapolis.
"The Maryland Fishing Challenge celebrates our State's high-quality fishing and provides an opportunity to recognize anglers of all ages and abilities," said DNR Secretary Joe Gill. "I encourage all Marylanders and visitors to join in making lasting memories by taking advantage of the diverse fishing our State offers."
Since Labor Day last year, more than 1,000 anglers qualified to participate in today's grand prize drawing by catching either an Angler Award-sized fish ─ a select species above a certain length ─ or an eligible Diamond Jim-tagged fish. Youth winners of fishing rodeos across the State also won exciting guided trips donated by fishing groups and experts.
Walking away with today's grand prize of a boat, motor and trailer from Bass Pro Shops and Tracker Boats was Rick Snider of Biglerville, Pa. Snider caught an Angler Award-qualifying, 40.5-inch striped bass off Breezy Point in Calvert County from his sailboat.
"Aside from my kids, grandkids and wife, this is the most awesome thing to ever happen," said Snider. He added, "I'm going to go stand by my boat now!" and excitedly headed over to check it out.
Snider celebrating his win
Snider celebrating his win
Bobby Gibson, of Church Hill, won an all-expense paid fishing trip to the Bahamas from the World Fishing Network, with his 24-inch bullhead catfish from South East Creek in Church Hill.
Gibson said he will be taking his wife on the trip, and that he was just hoping to win anything, even a fishing rod. "This is fantastic, thank you!" he added.
Warren Snoots of Davidsonville, William Albert of Catonsville, and Lee Cheyne of Ellicott City each won Bill's Outdoor Center grand prize fishing gear/tackle packages. Douglas Combs of Baltimore won a cooler filled with Costa gear.
"This event would not be possible without our generous sponsors and supporting organizations, whose passion for the sport continues to keep the excitement of fishing alive in Maryland, especially for our young anglers, the next generation of stewards," said DNR Deputy Secretary Frank Dawson.
Costa joined the Fishing Challenge as a premiere sponsor this year, contributing sunglasses and gear. Bill's Outdoor Center at Deep Creek Lake returned as a grand prize sponsor with thousands of dollars in tackle and fishing gear for the prize drawings. Bass Pro Shops provided tackle packages and gift cards for youth anglers. Whackfactor Outdoors offered a thousand dollars in gift cards for the invasive species awards. AllTackle and Marty's Bait & Tackle Shop provided gift card door prizes. All contestants received commemorative shirts, courtesy of Under Armour.
Forty lucky anglers caught specially tagged rockfish this summer in the Diamond Jim component of the 2014 Fishing Challenge. After all corresponding envelopes were opened ─ and no authentic Diamond Jim was discovered ─ the anglers split the contest's cash prize of $25,000, taking home $625 each.
The youth component of the Maryland Fishing Challenge celebrated nine lucky Maryland Youth Fishing Club anglers, who were randomly selected from their DNR Angler's Log online postings. These individuals were awarded Bass Pro and Bill's Outdoors gear and trips from the event's generous sponsors.
In the search for Diamond Jim, three batches of specially tagged striped bass – three genuine Diamond Jims and 230 imposters – were released into the waters of the Chesapeake Bay and its tributaries this summer. Diamond Jim's value increased each month: from $10,000 in June, to $20,000 in July, and $25,000 in August. The imposters were worth at least $500 each for the duration of the contest.
After more than 10 years as the Maryland Fishing Challenge's most sought after catch, Diamond Jim is bidding his followers a fond farewell. He officially retired Sept. 1, to give other species a chance to shine.
With more than 60 species, including striped bass, eligible for awards and prizes through the Fishing Challenge, there are infinite chances to catch a winner of a different breed. So whether casting from shore, a boat, or a license free fishing area, every recreational angler who fishes legally in the Maryland's public waters has the chance to catch an Angler Award winner in this free, year-round tournament.
Source: Maryland DNR
[do action="blackwall-hitch"/]