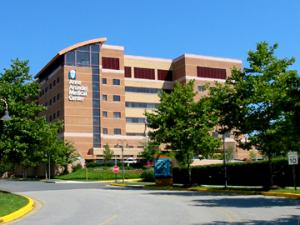 Anne Arundel Medical Center (AAMC) has achieved Magnet® recognition as a reflection of its patient- and family-centered care, nursing professionalism and teamwork.
Magnet recognition is determined by the American Nurses Credentialing Center's (ANCC) Magnet Recognition Program®, which ensures that rigorous standards for nursing excellence are met. With this
credential, AAMC joins the Magnet community—a select group of 401 U.S. hospitals out of some 5,700 organizations. Only six other hospitals in Maryland and two in Washington, D.C. have achieved Magnet® recognition since the program's inception in 1990.
Watch a video  of AAMC leaders and staff reactions when the ANCC called to notify them about having achieved Magnet recognition.
"Magnet recognition provides our community with the ultimate benchmark to measure the quality of patient care," said Tori Bayless, AAMC's president and CEO. "Achieving Magnet recognition reinforces the patient- and family-centered care that is a cornerstone of how we serve our community. It's also the tangible evidence of our nurses' commitment to providing the very best care to our patients, of which we are extremely proud."
"Over the last seven years, AAMC Nursing has used the Magnet framework to improve care, quality and outcomes for our patients, while also improving nurse satisfaction and the work environment," said Sherry Perkins, PhD, RN, chief operating officer and chief nursing officer at AAMC. "To apply for Magnet recognition, we had to be above benchmark performance in our nursing quality indicators, patient satisfaction and nurse satisfaction. Only 6 percent of hospitals nationally achieve this designation—most hospitals cannot even apply."
The term "Magnet" refers to hospital work environments that attract and retain well-qualified nurses who promote quality patient care.
To achieve Magnet recognition, organizations must pass a rigorous and lengthy process that demands widespread participation from leadership and staff. The process begins with the submission of an electronic application, followed by written documentation demonstrating qualitative and quantitative evidence regarding patient care and outcomes. If scores from the written documentation fall within a range of excellence, an on-site visit will occur to thoroughly assess the applicant. After this meticulous on-site review process, the Commission on Magnet will review the completed appraisal report and vote to determine whether Magnet recognition will be granted.
In particular, the Magnet model is designed to provide a framework for nursing practice, research, and measurement of outcomes. Through this framework, ANCC can assess applicants across a number of components and dimensions to gauge an organization's nursing excellence. The foundation of this model is composed of various elements deemed essential to delivering superior patient care. These include the quality of nursing leadership and coordination and collaboration across specialties, as well as processes for measuring and improving the quality and delivery of care.
The ANCC cited five best practices they took from AAMC:
1.                   Nursing leadership
2.                   Nursing satisfaction results, especially nurse-physician collaboration
3.                   Patient satisfaction results
4.                   Implementation and dissemination of evidenced-based practice across the organization
5.                   Patient- and family-centered care, especially its use of patient and family advisors
Magnet recognition has been shown to provide specific benefits to hospitals and their communities, such as:
•        Higher patient satisfaction;
•        Lower mortality and complication rates;
•        Higher job satisfaction among nurses; and
•        Lower nurse turnover and fewer vacancies.
[do action="blackwall-hitch"/]
Category: Businesses, Crime News, LIFE IN THE AREA, Local News, NEWS