[do action="schuh"/]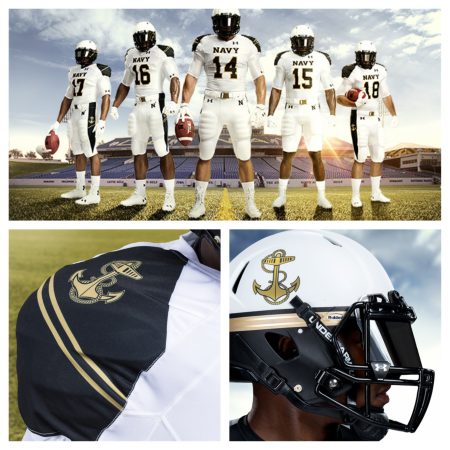 The Navy football team will open the 2014 season against Ohio State on Saturday in a special Under Armour-designed uniform inspired by the iconic Navy Summer Whites military uniform.
From a helmet directly inspired by the covers that the Mids wear to a gold belt buckle, no detail was left out. Additionally, the Mids will be wearing solid white cleats that represent the all-white dress shoes of the Summer Whites military uniform, as well as all-white gloves.
For the first time, uniforms will slightly vary from player to player, with each athlete wearing their specific rank on the field, depicted in the shoulder board and pant leg design of each uniform.
Freshmen will be wearing uniforms that only have the anchor on the shoulder and pant leg, but no stripes, while sophomores will have one diagonal stripe. Juniors will have two diagonal stripes and seniors will have one parallel stripe. Navy captains Noah Copeland and Parrish Gaines will wear a star and three parallel stripes, the rank of a midshipmen lieutenant.
As of July 1, 2014, Under Armour is now outfitting Navy's 33 men's and women's varsity athletic teams and Navy is the first service academy to be outfitted by the Under Armour Brand from head-to-toe.
[do action="blackwall-hitch"/]