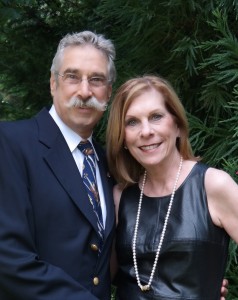 [do action="schuh"/]
Annapolis Opera is pleased to announce that passionate opera fans Carol and David Stern will serve as the honorary chairs of its Fourth Annual Singable Feast, the Opera's principal fundraising event that will usher in its 42nd season.
Carol and David Stern are honored to be named the chairs of this year's Singable Feast. The Annapolis Opera is fortunate toinclude the Sterns among its generous patrons. They have many interests in addition to supporting the Annapolis Opera, including world-wide travel and enjoying time with their family of 5 children, their children's spouses, and 9 grandchildren. Mrs. Stern is involved with the New Annapolitans club and is an active committee member of their temple. Mr. Stern is a marathon-running athlete and is a former board member of his synagogue.
"The Sterns are more than simply patrons and supporters of the Annapolis Opera," commented Annapolis Opera Board President Lee Finney. "David has served as a Board member and has been very active in reaching out to other business owners in the community and helping to raise the Opera's profile. We're thrilled that he and Carol have agreed to act as Honorary Chairs of this year's Singable Feast."
Though the Opera has experienced much recent success, including a sold-out production of La Bohème last season, no opera company's costs are completely covered by ticket sales alone. The Opera's signature fundraising event, the Singable Feast is a gala evening featuring gourmet cuisine and live opera performances. The evening begins with cocktails and a silent auction, followed by a four-course meal and live auction. The Singable Feast dinner menu will be created specifically for this event and is composed of dishes inspired by the operatic arias that will be performed throughout the evening. The evening will culminate in a raffle drawing from 150 tickets ($100 each) for a one week cruise for two people with American Cruise Lines (valued up to $11,500), either to the Historic South and Golden Isles or on the Mississippi as part of a riverboat cruise.
Annapolis Opera has provided professionally staged operas and concerts for the mid-Atlantic region for over 40 years. The Opera's mission is to present artistically excellent, professional opera productions, educational programs, and other opera-related events all while featuring local and emerging artists.
The Singable Feast will take place at 6:00 p.m. on 27 September 2014 at the Loews Annapolis Hotel, located at 126 West St. Annapolis, MD. Tickets are $150, a portion of which is tax-deductible.
For more information, visit www.annapolisopera.org or call 410.267.8135.
[do action="blackwall-hitch"/]