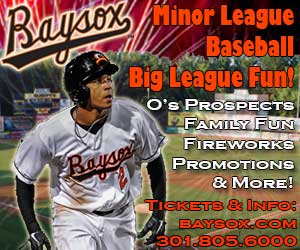 [do action="schuh"/]
The Bowie Baysox and the Eastern League of Professional Baseball Clubs announce that Baysox Director of Field and Facility Operations Matt Parrott has been named the Diamond Pro Sports Field Manager of the Year. Parrott is in his 12th season with the Baysox, and this second time he has been honored with the award, which is voted on by field staff and umpires.
"We join Diamond Pro in recognizing Matt Parrott as a true professional, dedicated employee and ambassador for the turf management industry," said Baysox General Manager Brian Shallcross. "Matt is universally respected by co-workers, industry peers, field staff, and former employees to which he has mentored. His attention to the small details and persistence in finding more efficient and effective methods to improve our baseball operation distinguishes his work. We are proud of Matt's accomplishments and this earned award."
In 2011, Parrott was named both the Diamond Pro Sports Eastern League Field Manager of the Year and the STMA (Sports Turf Managers Association) Double-A Sports Turf Manager of the Year.
Diamond Pro offers a complete line of professional groundskeeping products which include infield conditioners, calcined clay products, mound and home plate clays, clay bricks, marking dust, green divot sand, infield and warning track mixes. Diamond Pro® professional groundskeeping products deliver long lasting performance and quality while enhancing the look and feel of a well-maintained field.  Diamond Pro is a subsidiary of Dallas, Texas based Trinity Industries, Inc. a diversified industrial company that owns market-leading businesses which provide products and services to the energy, chemical, transportation, and construction sectors. For more information about Diamond Pro, be sure to visit their official website at www.diamondpro.com and follow them on Facebook and Twitter (@Diamondpropgp).
Baysox Baseball – We'll Knock Your 'Sox Off. The Baysox 2014 season and 22nd season of baseball at Prince George's Stadium is winding down. Parking is free at every Baysox home game and tickets are available at www.baysox.com, or by calling the Baysox box office at (301) 464-4865.
[do action="blackwall-hitch"/]