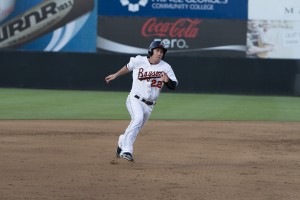 In his Eastern League debut, Baysox CF Mike Yastrzemski dazzled, going 4-for-5 with two runs scored in a come from behind 8-6 win in the series opener in Altoona.
Bowie lost middle of the order stalwarts Christian Walker and Dariel Alvarez to promotion to Triple-A Norfolk. Big shoes to fill, but for one night Yastrzemski was able to do so. He singled three times, tripled and made a diving catch in the ballgame.
The Baysox though trailed by two runs into the eighth inning and were tied in the ninth. LF Johnny Ruettiger and Yastrzemski singled in succession to start the ninth inning. After 3B Niuman Romero sacrificed the runners up to second and third with a bunt, DH KD Kang hit a chopper near the bag at first that allowed Ruettiger to score the lead run.
1B Chris Marrero then followed with a critical two-run home run to left-center against a new reliever, RHP Emmanuel de Leon. Marrero's blast went out to left-center field and was his third of the year with Bowie. The lead was 8-5.
The Baysox got great relief work from the duo of Marcel Prado and Ashur Tolliver (2-1) to keep the team in the game. Prado faced seven batters and got eight outs in the game, and Tolliver pitched a 1-2-3 eighth inning.
Reliever Julio DePaula would allow a run on three hits in the ninth inning but got Curve DH Drew Maggi to pop out to end the game with runners on the corners. It was DePaula's second save with Bowie.
The Baysox got a home run from RF Garabez Rosa (8) down the left field line in the fourth inning. Baysox starter Eduardo Rodriguez allowed five runs in 4 and 1/3rd innings in a no-decision.
The series continues with LHP Anthony Vasquez on the mound Friday, July 18th at 7:00 p.m. in Altoona. Coverage begins on 1430-WNAV and 99.9 FM in the city of Annapolis 20-minutes prior to first pitch.
Bowie will return home for a week long homestand beginning Monday, July 21st against Harrisburg at 6:35 p.m. Get your tickets now for the seven games over seven days by calling the Baysox Box Office at 301-464-4865 or online at baysox.com.