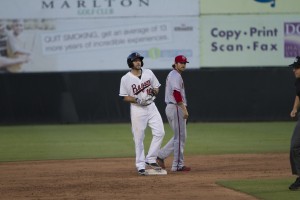 Bowie starter Zach Davies came out ahead in a pitcher's duel with Richmond's Jack Snodgrass Saturday night as the Baysox prevailed over the Flying Squirrels 2-0. Davies tossed seven shutout innings for the Baysox, allowing seven hits and striking out four while Snodgrass threw seven one-run innings and allowed just four hits in the loss.
The Baysox broke the scoreless tie in the bottom of the seventh inning against Snodgrass. Christian Walker drew a one-out walk and Michael Ohlman came through with a two-out double down the left field line that plated Walker to give Bowie the 1-0 lead.
Bowie added an insurance run in the bottom of the eighth inning against Richmond reliever Steven Okert. Garabez Rosa hit a lead off double to right field and moved to third base on a Johnny Ruettiger sacrifice bunt. Ronald Bermudez brought Rosa home with a sacrifice fly to right field to give the Baysox a 2-0 lead.
Reliever Steven Hensley pitched a scoreless eighth inning for the Baysox, striking out one batter. Baysox closer Oliver Drake pitched a perfect ninth inning to pick up his league-leading 22nd save of the season.
LHP Jake Pettit (4-7, 6.52) takes the mound for the Baysox Sunday as the team plays the third game in a four-game home series with the Richmond Flying Squirrels. He will be opposed by RHP Kyle Crick (5-4, 3.25)
The Baysox are home through Monday, July 14 for a four game homestand against the Richmond Flying Squirrels. Promotional highlights include the Football Kickoff Party Sunday, July 13 at 6:05 p.m. and a Day game Monday beginning at 11:05 a.m.
Baysox Baseball – We'll Knock Your 'Sox Off. The Baysox 2014 season, their 22nd as the class Double-A Affiliate of the Baltimore Orioles, is underway at Prince George's Stadium. Come see some of the top Orioles prospects play here first. To keep up with Baysox news during the season, visit baysox.com.