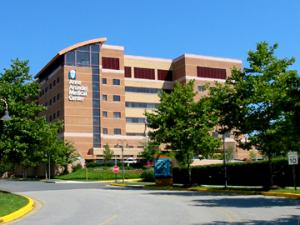 Anne Arundel Medical Center in Annapolis, Maryland, (AAMC) was recognized recently by the Institute for Patient- and Family-Centered Care (IPFCC) as a Better Together exemplar hospital for excellence in engaging patients and families as partners in patients' care. One of the key elements of this effort is eliminating restrictive visiting policies and welcoming patients' families and loved ones to be with patients 24 hours a day.
"We are honored to be recognized by the Institute for Patient-and Family-Centered Care.  Welcoming patients and their families as part of the care team is very important to us," says Tori Bayless, AAMC's president and CEO.  They are not visitors to our facility – we are guests in their lives, often during some of the most trying times in their lives.  Feedback from our patients, families and our staff shows us that our efforts really do make a difference," adds Bayless.
Since June 1, 2011, families at AAMC have been invited to visit patients 24 hours a day, seven days a week as part of the organization's focus on patient-and family-centered care.  These changes included addressing staff concerns about new policies, training staff, changing signage and website language to make families feel welcome, and assembling a planning team—including patient and family advisors, doctors, nurses, security personnel, receptionists, and everyone else affected—to lead the effort.
AAMC is among 12 hospitals nationally and the only one in Maryland named as exemplars, or models, for IPFCC's just launched Better Together campaign, which aims to educate hospitals about the need to change restrictive visiting policies so that families are no longer treated as "visitors" but seen as essential members of the healthcare team.
"AAMC understands, but more importantly, puts into practice the importance of partnering with our patients' loved ones as a core value for the entire community of people that we serve," says Karen Goldman, co-chair of AAMC's Patient-Family Advisory Council.
Rather than interfering, studies and hospitals' experience show that family presence reduces patient complications and stress and improves the patient's experience in the hospital. The Joint Commission, the accrediting body for health systems, recommends that hospitals accommodate access to a patient's support person to encourage safer care.
AAMC was also selected by the IPFCC for this recognition for encouraging patients' family members and loved ones to be involved in planning and decision-making and in the transitions to home.  "Not only do families and loved ones provide much-needed emotional support, but they help us do our jobs better," says Sherry Perkins, Phd,RN, AAMC, chief operating officer and chief nursing officer.  "They help in the healing process and know more about the patients than we could ever know," she adds.
To learn more about AAMC's family visiting visit askAAMC.org. To learn more about the Better Together visit IPFCC's homepage, ipfcc.org.
Category: Businesses, LIFE IN THE AREA, Local News, NEWS