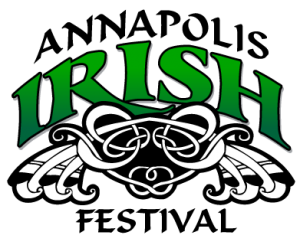 Are you ready for the 4 Annual Annapolis Irish Festival?  It's coming to town this weekend – and bringing perfect weather with it.
13 Bands on 3 stages, 4 dance troupes, pipers, entertainers and 100s of vendors bring the flavor of the Emerald Isle to Annapolis once again.
The huge Little Leprechaun Land (where all activities are free) will be open 11-5pm on Saturday only.
Gates open at 4pm this afternoon and the festival runs until 11pm on Friday and then starts up again on Saturday morning.  Gates are at 11am on Saturday with the festival closing at 11pm.  The official after-party will be at Fado Annapolis.
Tickets are $15 (Friday) and $20 (Saturday) and children 12 and under are free when accompanied by an adult.  Parking is free.
Advance tickets are no longer available, so get yours at the gate if you have not purchased them already.  Tickets and vendors are cash only, so please come prepared, The festival does have several ATMs throughout the grounds as well–but you know how that ATM fee works!
As for the entertainment, the lineup this year is stellar.  Gaelic Storm (Friday Only) and Carbon Leaf (Saturday Only) are the two headliners. Other bands will include the Kilmaine Saints, The Gothard Sisters, Seamus Kennedy, Dublin 5, Albannach, Scythian, Screaming Orphans, The Moxie Strings, The ShamRogues, The Fighting Jamesons, and Brendan's Voyage.
Come on out and be Irish for the weekend!