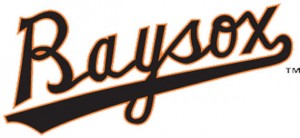 The Bowie Baysox have announced  the selection of four players to the Western Division team for the 2014 Eastern League All-Star Game Wednesday, July 16, in Altoona, Pa. 1B Christian Walker, OF Dariel Alvarez, LHP Tim Berry and RHP Oliver Drake were selected for the game. For more information on the All-Star game, fans can visit www.altoonacurve.com.
Walker will be making his first professional All-Star game appearance. The first baseman has been one of the most dangerous hitters in the league and one of the best hitters on the team. He leads the league in RBI (76) and total bases (183), is second in home runs (20), third in hits (104), third in extra-base hits (37) and tied for third in runs scored (56). Walker has twice been named the Eastern League Player of the Week this season on April 21 and again on May 19.
Playing his first full season of professional baseball in the United States, Cuban defector Dariel Alvarez has also proven himself to be one of the best hitters in the Eastern League. He is tied for the league-lead in hits (105), is second in RBI (66), tied for fourth in extra-base hits (35), fourth in total bases (169) and fifth in doubles (20). The Baysox starting center fielder also has the fourth-best plate appearance per strikeout ratio in the league at 10.59/1 to go along with 10 outfield assists.
Berry has been one of the Baysox most consistent starters this season, going 4-5 with a 4.04 ERA and 85 strikeouts in 17 starts and 98.0 innings. Berry is currently third in the league in strikeouts and is 3-1 with a 2.72 ERA in 10 home starts this season.
Drake has been one of the best closers in all of Minor League Baseball this season. Playing in his first full season as a reliever after missing much of the 2012 and 2013 seasons because of a shoulder injury, Drake currently leads the Eastern League with 21 saves in 23 chances. He has converted his last 13 save opportunities and had pitched 15 consecutive scoreless outings from 5/22 through 6/30.
Baysox Baseball – We'll Knock Your 'Sox Off. The Baysox 2014 season, their 22nd as the class Double-A Affiliate of the Baltimore Orioles, is underway at Prince George's Stadium. Come see some of the top Orioles prospects play here first. To keep up with Baysox news during the season, visit baysox.com.