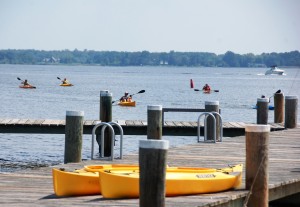 On Thursday, July 24 and Thursday, September 4, the Chesapeake Bay Maritime Museum (CBMM) in St. Michaels, MD is hosting kayaking along the scenic Miles River for a limited number of participants. Offered in partnership with the Sultana Education Foundation, the program launches from CBMM's Fogg's Cove at 9:30 a.m. and is scheduled to return by noon. Kayaks will be provided, or participants can bring their own.
Sultana Vice President and Naturalist Chris Cerino will take paddlers through 400 years of history from Miles Point—where Native Americans once lived, to the bustling St. Michaels harbor of today. Paddlers will learn about St. Michaels' landmarks and history, in addition to exploring the underwater life of nearby creeks, marshes, and beaches.
The cost is $35 per person, with pre-registration required and participation limited. Children ages 12 and up are welcome to participate, when accompanied by an adult in a personal tandem kayak. To register or for more information, contact Sultana Education Foundation at 410-778-5954, or visit www.sultanaeducation.org.