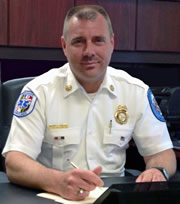 Anne Arundel County Fire Chief Michael E. Cox, Jr. today clarified specific information regarding the 911 call response time reduction or Rapid Dispatch Protocol (RDP) program that was instituted in the Anne Arundel County Fire Department last fall.
The RDP which was developed by a workgroup of Fire Department employees decreases the call-taking and processing time by dispatchers in the Fire Communication Center. The refined program consists of call takers obtaining three vital pieces of information in order to quickly determine and dispatch the appropriate medical units to an emergency.
As a result of an inquiry regarding County Executive Laura Neuman's Guest Column in the Capital newspaper (June 10, 2014), questions were raised regarding the improved 911 call response times. Information cited in the column: "With common sense conservative solutions, we cut the 911 response times in half, with no additional cost to the taxpayers" is correct. In fact, that statement is a conservative estimate. The department has actually reduced 911 call response times by more than 50%. The fire department like many other agencies has its own unique terminology. Reduction in 911 call response times should not be confused with a reduction in apparatus or equipment response times. The term 911 call response times commonly refers to the answering, processing and dispatching calls for assistance in a 911 dispatch center.
The RDP has been recognized as a best practice and is being emulated by other Department's across the Country. In addition to the RDP, other initiatives and efficiencies have been put in place to help enhance service to our citizens:
Implemented a policy that has Basic Life Support (BLS) ambulances respond in lieu of larger fire apparatus to emergency medical calls. This allows the BLS units to transport patients with less serious injuries to the hospital. Previously, an Advanced Life Support (ALS) unit would complete this transport making it unavailable for more serious calls. This new process increases the availability of paramedics to handle more serious calls and reduces response times. Additionally, this policy reduces unnecessary wear and tear on larger and more costly engines, trucks, and squads; increasing the usable service life cycles of the apparatus.
Staffed two additional BLS ambulances in Glen Burnie and Severna Park (Jones Station) by utilizing existing personnel from fire suppression units
Reallocated personnel to staff BLS units during peak times in Edgewater, Ferndale, and Severna Park
Added Advanced Life Support (ALS) response capabilities to the Shady Side fire station by reassigning supervisors with paramedic certifications and redeploying existing ALS equipment
Additional improvements such as the deployment of six new basic life support ambulances this summer will further enhance the delivery of Emergency Medical Services in various areas of the County
The combined 911 call center initiative (RDP) and apparatus deployment enhancements have had a dramatic effect on the fire department's service delivery model and all indications are that it will result in a significant decrease in apparatus and equipment response times. The Department is currently in the process of pulling and analyzing this data. A final report will be available within the next few weeks.
Source: AACoFD
[do action="schuh"/]