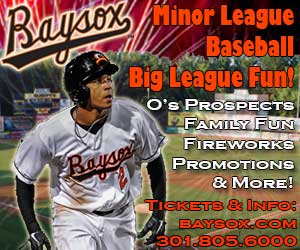 The Bowie Baysox are home beginning Friday, June 20 for a six-game homestand that includes a fun-filled weekend schedule. Highlights include Tribute to the Negro Leagues and Orioles Pride Day.
16th Annual Boy/Cub Scout Campout Friday, June 20, 6:35 p.m. – Local Scout troops who have pre-registered for the event will be able to sleep under the stars on the field after the game. There will be fireworks after the game. The Baysox will also be collecting sports equipment to benefit Leveling the Playing Field.
13th Annual Tribute to the Negro Leagues Saturday, June 21, 6:35 p.m. – There will be a pregame ceremony to honor former Negro League players, plus an autograph session on the concourse during the game. Bud Light 1K Beer Run – The final 1K Beer Run of the season will be held on the field beginning at 5:30 p.m. Fans will make three laps around the warning track and receive a beer after each lap. The deadline to register for the Beer Run is 5 p.m. Thursday, June 19. Louie's BIG Birthday Bash – Celebrate Louie's birthday with all his mascot pals. Bring a new unwrapped toy to benefit Louie's Holiday Hope project and receive a raffle ticket for great Baysox prizes. Members of Louie's Kids Club who preorder their tickets on www.baysoxshop.com by 5 p.m. Thursday, June 19 also get to enjoy birthday cake with Louie during the game. There will be fireworks after the game.
Orioles Pride Day Sunday, June 22, 2:05 p.m. – Wear your Orioles gear and save $5 on a box seat ticket at the box office the day of the game. There will also be a Manny Machado lunch bag giveaway for the first 500 fans ages 13 and older presented by the City of Bowie.
[do action="schuh"/]