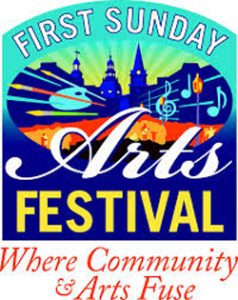 The entertainment for the next First Sunday Arts Festival (June 1)  in Annapolis, Maryland have been announced.  The streets and parks on West and Calvert Streets in the downtown historic area will be filled with over 100 unique artists and crafters, live bands, dance, street performers, and international outdoor cafes.  The time of the festival is noon to 5:00 pm and admission is FREE.
In Whitmore Park, you will be entertained  by Big Hoax which specializes in classic rock and folk music followed by Jasacuta.    And, with a walk down the street to Wiseman Park, listen to Sparks, Raymond, and McCoy, playing an acoustic mix of rock and folk music for young and old followed by 3 'til Midnight with its highly acclaimed performances of classic rock, blues, originals, old school, smooth jazz, and country. And, as a highlight for adults and children alike, Mike the Magician, Infinity Theatre Company and Steel Drummers will be strolling the streets to the delight of all. And be sure to visit Ashbury United Methodist Church at 87 West Street for musical performances all afternoon long.  For details and names of exhibitors, please visit First Sunday's website at:  www.firstsundayarts.com
This annual event began in 2001 as a way for area West Street artists — passionate about their work — to showcase their talents and has been an Annapolis tradition ever since.  It has grown into one of the premier festivals in the area, attracting over 4,000 visitors the first Sunday of each month from May to October.  Now in its fourteenth year, First Sunday Arts Festival showcases the prized works of artists and crafters employing a variety of medium including painting, ceramics,  jewelry, photography, and fiber art in addition to celebrating the talents of experts in the field of theatre, music, and the performing arts. 
The dates for the remaining 2014 First Sundays are:   July 6, August 3, September 7, and October 5, each from 12:00 noon-5:00 pm.  There is also a First Sunday Holiday Arts Sale on November 2 at Maryland Hall for the Creative Arts at 801 Chase Street.  Admission is free to all First Sunday events.
Admission is always free and plenty of parking is available at the State Parking Garage on the corner of Calvert and Bladen streets. Leashed pets are welcome.  Attendees can enjoy Sunday brunch in one of the many restaurants on West Street and afterwards walk the brick-lined streets of historic, downtown Annapolis with its many shops, restaurants, and boats sailing in and out of the harbor.
Well-known for its maritime culture, colonial heritage and charming downtown shopping district, Annapolis was named one of the nation's Top 25 Arts Destinations in AmericanStyle Magazine.  Winning cities were ranked for the high quality of their art galleries, festivals and events and for their warm welcome to art collectors and arts tourists. With a population of over a half-million, the Annapolis area has a median household income 30% higher than the national average.  It is also the destination of more than 4 million visitors each year, accounting for $1.8 billion in revenue.  Maryland is the wealthiest state in the nation and the Annapolis jurisdiction is the fourth most affluent in the state.  Annapolis is also conveniently located approximately 35 miles from both Baltimore and Washington, D.C. and its affluent Maryland and Northern Virginia suburbs. 
The event is produced by City Dock Productions, an event management company with over 38 years of experience presenting arts and crafts festivals, music festivals, wine and craft beer festivals and other consumer product shows and public events. To ensure widespread awareness of the festival, the event is being aggressively marketed throughout the region with a multimedia advertising and publicity campaign via cable, print, radio and online, as well as through posters, postcards and brochures.  
Each artist, crafter, and performer must submit an application to be juried by a selection panel that looks for distinctive concept, excellence in workmanship and appropriate presentation.  The application along with details can be found at:  www.firstsundayarts.com.  A list of each Sunday's exhibitors is posted on the festival's website:  www.firstsundayarts.com.  For further information, call 1-410-263-4012. 
[do action="schuh"/]