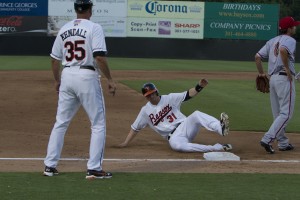 The Baysox left 13 runners on base and fell a big hit short in Reading in a 4-3 loss on Sunday evening. Bowie outhit Reading 14-6 in the game but it was not enough.
Reading got the big inning in the top of the fourth inning off of starter Tyler Wilson. LF Zach Collier singled and reached second base on a SAC bunt mishandled by Baysox C Michael Ohlman. A walk following loaded the bases.
That set the table for RF Cameron Perkins who doubled home all three runners with a shot to the gap in right-center field. Perkins later scored the inning's fourth run on a double play ground ball.
Other than that Wilson was outstanding on the hill with a strong seven inning effort. The damage though had been done.
Bowie left a runner in scoring position in three of the first five innings but broke through in the sixth inning. With runners at the corners RF Garabez Rosa singled home a run to put the Baysox on the board. In the seventh inning with runners at second and third bases, CF Dariel Alvarez grounded out to the right side to bring home another run. And DH David Freitas made it a 4-3 game with a two-out RBI-single in the eighth inning.
But the Baysox could not get the big inning. Bowie left a runner in scoring position in seven of nine innings including the ninth inning when they stranded runners at first and second base with just one out.
Bowie comes home on Monday, May 19th to take on Erie for the first of four games. First pitch 6:35 p.m. on Mutt Monday as fans can bring their dog on a leash to the game. For tickets call the Baysox Ticket Office at 301-464-4865 or online at baysox.com.
[do action="schuh"/]