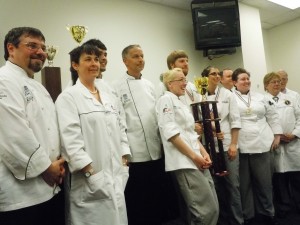 Two culinary students in Anne Arundel Community College's Hotel, Culinary Arts and Tourism (HCAT) Institute earned gold medals and HCAT's team earned second place at the 6th Annual Chesapeake Culinary Cup competition earlier this month at the institute in Glen Burnie.
The Chesapeake Culinary Cup is an American Culinary Federation-sanctioned competition open to regional college culinary arts programs. Each person could enter a four-person team, with three members handling savory dishes and one pastry contestant.
Gold medal winner Michael Willard of Annapolis was the high-scoring student for HCAT and earned the highest score in the competition with his menu of pan-seared red snapper with citrus beurre blanc, lima bean puree, glazed carrots, orange-scented asparagus and a rice croquette. Jennifer Lowe of Stevensville, the other gold medal winner, served pan-seared rockfish with lemon beurre blanc, a spring vegetable medley, celery root puree and sautéed celery root and roasted garlic tuile. Earning the bronze medal was Carrie Svoboda of Stevensville, with both Ricky Rice of Pasadena and Erin Gregory of Edgewater earning certificates.
The scores of all four students from each school were tabulated to determine an overall team score. Taking first place in the team category was Monroe College of New York, with the Pennsylvania School of Culinary Arts (at York Technical Institute) earning third place.
AACC's HCAT Institute offers credit degrees and certificates; an Italian Culinary Internship; industry training including Bartender Certification, Certification in Sanitation and Casino Dealer School; professional student clubs; competitive teams; and scholarship opportunities. Noncredit cooking and demonstration courses are available for people who enjoy cooking. For information, go to www.aacc.edu/hcat.
[do action="schuh"/]