The academy's annual Color Parade, honoring the fall and spring color companies was held on Worden Field, this morning, at 11 a.m.  Chief of Naval Operations Adm. Jonathan W. Greenert, Naval Academy Superintendent Vice Adm. Michael H. Miller; and Commandant of Midshipmen Capt. William D. Byrne, Jr.  reviewed the parade.
The midshipmen of 19th Company have earned the honor of being designated as the spring 2014 color company through their accomplishments during the last semester.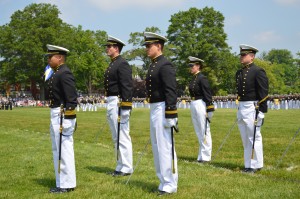 The Color Parade is the oldest parade at the U.S. Naval Academy, a tradition which began in 1867.   Midshipmen anticipate this parade as their last full dress parade while at the academy.  The highlight of the Color Parade is the formal presentation of the color company pennant to the company that has excelled in academics, athletics and professional accomplishments.
One newer tradition at the USNA is the "Another Link In The Chain" program. This program, developed by the USNA Alumni Association, creates a bind between the current class and the one that graduated 50 years prior.  Their class ring will have some element from the Class of 1964 into the design to cement the bond between the two. This year's class is "linked" with the Class of 1964 and there were rings from '64 that were donated, and the gold was used to create the ones for '14.  Several members of the Class of '64were present at the parade.
Midshipman 1st Class Lauren Schmiegel, of Lancaster, NY., served as the spring semester color company commander.  At graduation, she will be commissioned as Navy surface warfare officer. Schmiegel will receive the Stewart Wight Hannah Memorial Trophy.  The silver bowl will be displayed in Bancroft Hall throughout the year and is inscribed with the spring semester color company number and the name of the new Color Company commander.
A color honoree is selected by the winning spring semester company commander. Pitcher selected her father, Frank Schmiegel also of Lancaster, NY  , as the 2014color honoree.
Midshipman 1st Class Andrew Robinson, of the 15th Company, from Madison, Miss. served as the fall semester color company commander.  At graduation, he'll be commissioned as a Navy ensign and will serve as a Navy pilot. Robinson will receive the Forrestal Award, an engraved silver tray presented in honor of the nation's first Secretary of Defense, James V. Forrestal, donated by the late Charles P. McCormick.
For more coverage on Commissioning week
Herndon Climb 2014 PHOTOS
Blue Angel Pilot Interview 2014
Blue Angels 2014 PHOTOS
2013 Graduation PHOTOS
2013 Graduationv PHOTOS