Wow, the folks at the Annapolis &  Anne Arundel County Conference and Visitors Bureau (AAACCVB) have created an incredible list of new events, new places, improvements, and more!  Check it out!
There's a lot that's new in Annapolis and Anne Arundel County, Maryland this spring and summer. To make it easy for area residents and vacationers to be in the know, the Annapolis & Anne Arundel County Conference and Visitors Bureau has compiled a sampling of some of the latest attractions and experiences that beckon travelers in the months ahead. For a complete listing, visit the Annapolis and Chesapeake Bay website at www.VisitAnnapolis.org.
What's New with Events
Better Living through Chemistry— Individuals who know and love Annapolis won't want to miss the Maryland-made movie released in 75 theaters nationwide on March 14. Written and directed by Geoff Moore and David Posamentier, the movie stars Sam Rockwell, Olivia Wilde, Michelle Monaghan, Ray Liotta and Jane Fonda. It's about a small town pharmacist (played by Sam Rockwell) who is in a rut until he meets trophy wife Elizabeth Roberts (played by Olivia Wilde) and takes a walk on the wild side. Among the Annapolis locations featured in the film are: State Circle, Maryland Avenue, Main Street, Galway Bay Irish Pub, Niland & Company Jewelers' building, Maryland Hall for the Creative Arts and Quiet Waters Park. Through the efforts of the Maryland Film Office, "Better Living through Chemistry" was shot in Maryland in the summer of 2012. According to the Film Office, the movie hired nearly 200 Maryland crew, cast members and extras and directly purchased or rented goods and/or services from 571 Maryland vendors. More than 200 of the businesses patronized were in Annapolis and Anne Arundel County.
U.S. Yacht Shows, Inc.—In December 2013, the long-time general manager of the Annapolis Boat Shows, Paul Jacobs, and his partners assumed ownership of the Boat Shows from C. Edward Hartman, II. Jacobs and a team of four local business professionals are carrying on the tradition of hosting some of the most prestigious boat shows in the world. Along with taking on the role of corporate president, Jacobs is continuing his responsibilities as general manager, and the entire management team and permanent staff remains in place. The new owners include Sheila Jones, Annapolis Boat Shows manager; Peter Trogdon, owner of Weems and Plath, an international marine industry business based in Eastport; Bob Crain, owner of Applied Lighting; and Mary Ewenson, owner of SpinSheet and PropTalk magazines. The 2014 boat show dates are as follows: Bay Bridge Boat Show, April 11-13, Stevensville, MD; Annapolis Spring Sailboat Show featuring Cruisers University, April 25-27, Annapolis, MD; United States Sailboat Show featuring the Annapolis Brokerage Show, October 9-13, Annapolis, MD; and United States Powerboat Show featuring the Annapolis Brokerage Show, October 16-19, Annapolis, MD. www.usboat.com, 410-268-8828.
Eco Adventures' Earth Day Extraordinaire—What better place to party for the planet than in Eco Adventures' rainforest? On Saturday, April 26, from noon until 4:00 p.m., visitors can indulge in a host of fun games as Eco Adventures pays tribute to Mother Earth. They're planning to make her proud with lots of environmental entertainment and enlightenment, including live animal interactions, face painting, eco-friendly crafts, food, fun, and more. Admission to the enormous Earth Day blowout party for the planet is $5.00. Owned and operated by scientist, educator and TV personality Dr. Brady Barr of National Geographic fame, Eco Adventures opened just outside of Annapolis in December 2013. Its core mission is education, enrichment and conservation. http://ecoadventures.org/, 410-279-5416 or 410-987-1300
Paint Annapolis—There's a new organization at the helm of Paint Annapolis. The Maryland Federation of Art (MFA) will be hosting the June 23-29, 2014 plein air painting event. For the first time in its 12-year history, the 2014 event invites 30 juried artists from across the country to look beyond Annapolis to the whole of Anne Arundel County for their inspiration. The four-day juried plein air painting competition attracts artists and art enthusiasts from across the country. Their artwork will be displayed and sold at the MFA Circle Gallery on State Circle through Sunday, June 29. A new addition to this year's event is an after 5:00 p.m. Nocturne painting event in Annapolis' Arts & Entertainment District on Thursday, June 26. The public is invited to participate in the Nocturne event as well as in the ever-popular Dueling Brushes event at City Dock on Saturday, June 28, from 9:00 a.m. to 2:00 p.m. In this friendly competition, artists have 1.5 hours to paint. Their work will be displayed and sold at Maryland Hall for the Creative Arts. http://www.mdfedart.com/, 410-268-4566
Silopanna Festival—After a two year hiatus, the Silopanna Festival will return to the Anne Arundel County Fairgrounds in Crownsville on Saturday, August 16. Produced by Rams Head Promotions, the event is expected to attract 7,000 to 10,000 music lovers. When it was last held in 2012, the festival lineup included national recording artists including Cake, Citizen Cope, G. Love & Special Sauce, Robert Randolph & the Family Band and J. Roddy Walston & The Business, as well as several local and regional bands. www.silopannafest.com
What's New with Accommodations
Loews Annapolis Hotel completed the final phase of a three-year renovation project in March 2014. The latest renovations updated the hotel's 215 guest rooms, 17 suites and guest corridors. The rooms now include free Wi-Fi, new 47-inch flat screen smart televisions, updated bathroom amenities and new showerheads, new décor and linens, full soft goods overhaul and a partial case goods renovation, as well as new cordless speaker telephones and tech-friendly desks with USB ports and extra outlets for charging devices. The updated rooms include complimentary Keurig coffee makers, make-up mirrors and doeskin bathrobes. As a crowning touch to the renovations, Loews Annapolis installed a new public feature by hanging sails in its four-story atrium. The latest updates wrap up a renovation project that included a new lobby design unveiled in 2012 and an updated look for Loews Annapolis' more than 20,000 square feet of flexible meeting and function space. www.loewsannapolis.org, 410-263-7777
O'Callaghan Annapolis Hotel plans to begin top-to-bottom renovations in April 2014. The $2.5- to $3-million project will kick off with improvements to the 119-room hotel's public spaces, including its John Barry restaurant. The updates will include new finishes, carpeting and wallpaper. Changes to the guest rooms will include new beds and furniture in keeping with the property's Georgian theme. The renovations are expected to take three months. www.ocallaghanhotels-us.com, 410-263-7700.
Westin Annapolis Hotel wrapped up a $5-million, 14-month total hotel renovation project in February 2014. Highlights of the renovation included creation of a 3,600 square foot Annapolis Ballroom, featuring an open kitchen. The renovation also involved a refresh of the Westin's 6,400 square foot main ballroom, along with a soft goods renovation of its 225 guest rooms, hallways, lobby and Azure restaurant. The addition of the new Annapolis Ballroom boosts the hotel's meeting space to 18,200 square feet. www.westin.com/annapolis, 410-972-4300
What's New with Attractions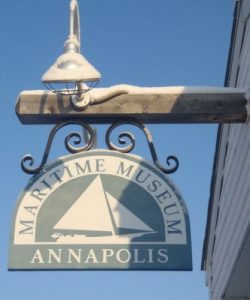 Annapolis Maritime Museum (AMM) installed three new kiosks at its home in the old McNasby Oyster Packing Plant in Eastport in February 2014. The Critter Kiosk features an interactive critter identification key that allows visitors to identify all of the creatures in the AMM's 850 gallon aquarium. Visitors can also learn more about oysters including their habitat, how they breed and eat, and more. The History Kiosk includes the history of McNasby's as well as key events in the history of Eastport, Annapolis and the world. The kiosk also features oral history recordings from Eastport residents. The Work Boats Kiosk explains how boats were built, used and altered to meet the needs of individuals working on the waterfront through the years. www.amaritime.org, 410-295-0104
Annapolis Maritime Museum—For the first time this year, the Annapolis Maritime Museum will be offering summer camps. Its "Bug Eyes" camp is for children entering second or third grade in fall 2014. Chesapeake Critters (June 23-27) and Back Creek Adventures (July 7-11) will include touch and see animals, games and habitat exploration. The museum will also be offering "Skipjacks" camps for children entering fourth or fifth grade in the fall. Amazing Adaptations (July 14-18) and Catch of the Day (July 28-August 1) will include handling animals as well as doing scientific observations and experiments. www.amaritime.org, 410-295-0104
Annapolis Sailing Cruises: Schooner Woodwind and Woodwind II—In February 2014, Annapolis Sailing Cruises became the first Annapolis and Chesapeake Bay attraction to be designated as a Maryland Green Travel Partner by the Maryland Office of Tourism Development. The company was recognized for its waste reduction and energy efficiency efforts. It joins the ranks of nearly 50 other Annapolis and Chesapeake Bay restaurants, accommodations and marinas that have already been designated Maryland Green Travel Partners. http://www.schoonerwoodwind.com/, 410-263-1981
Annapolis Tours by Watermark's Four Centuries Walking Tour has a new departure time beginning spring 2014. Offered twice daily through the fall, the afternoon tour now leaves the City Dock Information Booth at 1:30 p.m. Watermark's colonial-attired tour guides escort participants to key sites – including the Maryland State House and the U.S. Naval Academy. www.annapolistours.com, 410-268-7601
Annapolis Tours by Watermark's Historic Ghost Walk will begin departing from a more central location in Annapolis effective April 2014. Guests will meet their period-dressed guides in front of Buddy's Crabs & Ribs at 100 Main Street. www.annapolistours.com, 410-268-7601
Banneker-Douglass Museum—A new exhibit, Who is Herbert M. Frisby?, opened in February 2014. It celebrates a Maryland resident who spent much of his life trying to build recognition for Matthew Henson, the first African American to reach the North Pole in 1909. Following his role model, Frisby achieved worldwide fame for his 26 Arctic explorations, beginning in World War II. In 1956, he was flown on a special mission to the North Pole to drop a bronze plaque as a memorial to Matthew Henson. Frisby's Arctic artifacts will be on display through August 2014. http://www.bdmuseum.com/, 410-216-6180
Chesapeake Arts Center began offering new classes designed for the 21+ crowd in January 2014. Called Uncork'd Art: Just for Fun, the sessions are exactly as they sound – just for fun! The Chesapeake Arts team guides participants on a painting for the night, and the result is a personal masterpiece. The session includes a complimentary glass of wine and art supplies. Fun night, great art, great wine. http://www.chesapeakearts.org/, 410-636-6597
Cruises on the Bay by Watermark is offering interested individuals the opportunity to get an up close and personal look at the Wednesday Night Sailboat Races during its Wednesday Night Races Cruises aboard the Harbor Queen. Participants will enjoy views from the end of City Dock, cruise to the race course to watch the races and return dockside to catch the finish. New this season, the cruises will be offered June 18, July 16 and August 20. www.cruisesonthebay.com, 410-268-7601
Cruises on the Bay by Watermark is offering a new way to get from Baltimore to Annapolis. It's a cruise from Baltimore's Inner Harbor to Annapolis aboard the Raven, the newest yacht in Watermark's fleet. The Raven will dock at Annapolis' City Dock where guests will disembark to enjoy Maryland's capital city at their leisure and be back in Baltimore in time for dinner. July 10 and August 14. www.cruisesonthebay.com, 410-268-7601
Eco Adventures—Owned and operated by scientist, educator and TV personality Dr. Brady Barr of National Geographic fame, Eco Adventures opened just outside of Annapolis in December 2013. Its core mission is education, enrichment and conservation. Visitors to the 4,000-square-foot facility in Millersville can experience the tropical sights and sounds of a two-story simulated rainforest, explore an underwater discovery room and visit with animals, including a crocodile, 22' python, tarantulas, scorpions, frogs, toads and more. Just outside Eco Adventure's back door lies the neighboring Severn Run Wildlife Area. Its 1,700 acres of pristine wilderness is ready to be explored and admired by Eco Adventure's young conservationists. Dr. Barr has hosted more wildlife documentaries (including Reptile Wild and Crocodile Chronicles) than anyone in the 120-year history of National Geographic. Now, his goal is to share his knowledge and love of nature and the environment with young people and help combat what he calls "nature deficit disorder." http://ecoadventures.org/, 410-987-1300
Food Tour Corporation (FTC) will be introducing three new culinary events for groups in Annapolis this spring. The Culinary Cooking Challenge is a competitive team-building event where groups work together to cook the "best" meal as determined by a panel of judges. After the teams present their dishes to the judges, guests will enjoy additional drinks and a seated meal. Victuals is a culinary exploration where the FTC will bring an area's food, drink and culture directly to a venue for an interactive culinary experience. Guests will enjoy a series of experiences during a walking tour led by a local guide. The experiences will include hands-on cooking demonstrations, sit-down stops, cultural tastings, wine pairings and mixology demonstrations. Crab Cake Cooking Demonstration: Guests will enjoy a cooking demonstration at a celebrated restaurant. They'll discover unique flavor profiles, learn innovative cooking techniques and hear a local chef describe his/her best kept secrets. www.foodtourcorp.com, 202-683-8847
Maryland Hall for the Creative Arts—The first phase of an $18-million renovation project to modernize and improve the performing arts wing at Maryland Hall is slated to begin in June 2014. With an anticipated completion date of September 30, the $2-million first phase will include renovation of the theatre's orchestra level seating, improvements to the stage's proscenium and cosmetic improvements to the stage. The changes are designed to significantly enhance the patron/performer experience. The entire $18-million multi-phase facility modernization includes renovation of the main theatre, construction of two theatre wings, the creation of a new 150-seat community theatre and the addition of several flexible gathering spaces. www.marylandhall.org, 410-263-5544
Maryland State House—Two new interpretive panels were installed on the State House grounds in March 2014. The first panel tells the story of Dred Scott, a slave whose freedom was denied by the U.S. Supreme Court in 1856. Scott was finally emancipated by the descendants of his original owner in 1857. The second interpretive panel introduces Roger Brooke Taney, the U.S. Chief Justice who handed down the decision that denied Dred Scott his freedom. Taney wrote that persons of African descent did not possess the rights of citizenship because the framers of the U.S. Constitution had not included blacks, either free or enslaved, in the original community of people covered by the Constitution. The panels are located on the walkway directly behind the statue of Taney that sits near the entrance to the State House that faces Maryland Avenue. http://msa.maryland.gov/msa/mdstatehouse/html/memorials_main.html
U.S. Naval Academy—In an effort to reach more international visitors with its message, the U.S. Naval Academy Museum at Preble Hall is expanding its audio tour to include foreign languages. At present, visitors can learn about 30 different museum artifacts in Spanish as well as English. The Naval Academy Languages and Cultures Department is working with the Museum to produce two-minute audio recorded descriptions of the 30 artifacts in Arabic, French, German, Japanese, Russian and Mandarin by the summer of 2014. Each of the languages is taught at the Naval Academy. Visitors will be given a map of the museum with tour instructions and locations of the 30 artifacts. The displays combine historical artifacts with video and audio technology to bring to life the stories of the men and women who have served their country at sea. The Naval Academy Museum receives more than 125,000 national and international visitors per year. http://www.usna.edu/Museum/, 410-293-2108
Westfield Annapolis Farmers' Market—Individuals wishing to patronize Westfield Annapolis' Farmers' Market this summer should find it easier to locate this year. Instead of operating from within the mall's orange parking garage, it will be freestanding at the corner of Bestgate Road and General's Highway. To celebrate the move, there will be live music, free popcorn and face painting on opening day, Sunday, April 6, beginning at 10:00 a.m. Patrons of the farmers' market will discover a larger selection of locally produced agricultural products this year, including organic options, seasonal produce, milk, yogurt, cheese, beef, pork, chicken, eggs, baked goods, jams candies, soaps, jewelry and herbal products. Local wineries will also be showcasing a selection of their wines. The market will be open the first and third Sundays of the month through November 23. www.aaedc.org, 410-349-0317
What's New with Dining
AIRMALL® at BWI Thurgood Marshall Airport is partnering with Greenlight Biofuels to implement an environmentally-friendly method of recycling the waste cooking oil generated by tenants in the airport's concession program. In December 2013, AIRMALL® USA announced that Greenlight Biofuels is working with the company to collect waste cooking oil and convert it into biodiesel, a greener fuel alternative that can reduce greenhouse gas emissions by 78-percent. AIRMALL® USA is the leading airport concessions developer in North America and operator of the AIRMALL at BWI Thurgood Marshall Airport. The new initiative is designed to further improve BWI's renowned recycling program. www.airmallusa.com/BWI.aspx, 410-859-9201
Bean Rush Café—Crownsville's Bean Rush Café is plans to open a second location at the site of the former b. b. Bistro on Annapolis Street in West Annapolis in June 2014. Owners Mark and Shannon Abrahams will be selling coffee, sandwiches, salads and pastries at the 1,250-square foot restaurant. http://www.beanrushcafe.com/
BWI Thurgood Marshall Airport—A report by the Physicians Committee for Responsible Medicine released in the fall of 2013, ranks BWI Thurgood Marshall Airport fourth in the nation when it comes to U.S. airports offering travelers the healthiest food options. The report found that 80-percent of the restaurants at BWI offer healthy menu items that include vegetables, fruits, whole grains and legumes. In the nationwide survey, Denver International Airport was ranked first in healthy airport dining, followed by Detroit Metropolitan Wayne County Airport and Chicago O'Hare International in second place. Reagan National tied with Los Angeles International for third place. Dulles International tied with BWI for fourth place. www.bwiairport.com/en, 1-800-IFLY-BWI
Cleo's Fine Oils and Vinegars—In search of a new and fun way to catch up with friends? Cleo's Fine Oils and Vinegars at the Annapolis Towne Centre in Parole might just fit the bill. In January 2014, the store began offering tastings the second and fourth Wednesday of each month from 6:00 p.m. to 7:00 p.m. Interested individuals are invited to drop by after work or shopping to enjoy Cleo's extra virgin olive oils and balsamic vinegars along with small appetizer tastings and a glass of wine. http://www.cleosfineoils.com, 410-266-5540
Corner Grille of Shady Side opened at 6127 Shady Side Road in Shady Side in February 2013. Offering a sports bar-type atmosphere, the restaurant serves lunch and dinner. 410-867-3400
5 Waterside—The old Calypso Bay Boatyard Bar & Grill at Herrington Harbour North will be re-opening with a new name and a new look in July 2014. 5 Waterside at 421 Deale Road in Tracys Landing will feature farm-to-table cuisine with a focus on the bounty of the Chesapeake Bay. A waterfront tiki bar is expected to be the main attraction. It will be complemented by dining in the sand and a new fire pit that will extend the season when the weather cools. The year-round family-oriented restaurant still plans to offer what it considers to be the best Orange Crushes on the Bay. https://www.facebook.com/CBontheBay, 410-867-9787
Garbanzo Mediterranean Grill opened at the Festival at Riva in Annapolis on February 19. The restaurant prides itself on providing fresh, healthy and authentic Mediterranean food. Their pitas are made from scratch onsite throughout the day. Their hummus, falafel, shwarmas and salads are made from fresh, high quality ingredients. www.eatgarbanzo.com, 443-321-2999
John Barry Restaurant at the O'Callaghan Hotel has a new executive chef. David Wells joined the John Barry team in February 2014. With a background in food and beverage and culinary teaching, Chef Wells is rejuvenating the Irish restaurant's menu with traditional Irish dishes and Maryland favorites. Popular items on the menu include crab cakes, spicy pecan chicken and strawberry spinach salad. The restaurant is named after Captain John Barry of the Continental Navy. http://www.ocallaghanhotels-us.com/dining-en.html, 410-263-7700
Lima's Chicken – Pollos a la Brasa opened at 1901 West Street in Annapolis in the fall of 2013. Specializing in Peruvian cuisine, the restaurant focuses on providing its customers with delicious rotisserie chicken, grilled steak and Peruvian dishes prepared with high quality ingredients in a relaxed family atmosphere. www.limaschicken.com, (410) 267-5491
Maggiano's Little Italy—The first Maryland location for Maggiano's Little Italy opened in at Westfield Annapolis Mall in October 2013. The new restaurant is located between Macy's and Café Rio. Its Italian menu includes pastas, salads, steaks and seafood. www.maggianos.com, 410-266-3584
Preserve Restaurant—Chef Jeremy Hoffman is planning to open Preserve Restaurant at 164 Main Street (former home of Aqua Terra restaurant) in Annapolis with his wife Michelle in April 2014. Formerly the Chef de Cuisine at the renowned Restaurant Eve of Alexandria for nearly 15 years, Hoffman and his wife envision the Preserve as a farm-to-table venture that relies on local co-op farms and creameries to supply them with fine ingredients for their American casual menu. The Culinary Institute of America graduates are planning a menu filled with creative small bite selections as well as full entrees. Hoffman anticipates offering some vegan dishes as well as heartier fare for meat lovers. Maryland crab rolls, oyster mushroom po'boys, quinoa and kale soup as well as smoked eggplant basil gnocchi are a few of the dishes planned. http://preserve-eats.com/
Vivo Italian Kitchen and Wine Bar opened at The Hotel at Arundel Preserve in December 2013. The second George Martin Group restaurant at The Hotel, the contemporary, casual Italian restaurant features antipasti, homemade pastas, artisanal pizzas and traditional fish and meat entrees. Among the favorites are: crab imperial pizza with mars Capone cheese, lemon panko and slivered jalapenos drizzled with red pepper aioli; Mafaldine bolognaise, a wide, flat noodle with curly edges in a sauce of sweet sausage, braised short rib and warm ricotta; and Charlie's Chicken, brick-oven-fired on the bone with balsamic, red wine and San Marzano plum tomatoes. Vivo's design is inspired by Italy's mountainous Tuscan region. The space combines rustic materials with a soft color palate and natural textures, creating the earthy feel of the countryside. www.vivotrattoria.com, 410-799-7440
What's New with Services
Alchemy Healing Arts Center at 107 Ridgely Avenue in Annapolis held a ribbon cutting in October 2013. The holistic center specializes in therapeutic massage, advanced light touch therapies and the healing arts. Their therapeutic massage and specialty bodywork is designed to relieve pain, restore health and bring its clients ease and comfort. www.alchemyhealingartscenter.com, 410-263-1272
Annapolis Urban Adventures is launching a new service in March 2014. Called Annapolis City View, the service is designed to give visitors the lay of the land. Targeted at families and/or individuals who have limited time and/or who prefer to ride rather than walk, Annapolis Urban Adventures uses an electric-powered, six passenger eCruiser to give its patrons an overview of Maryland's capital city via Annapolis City View. The 45-minute sightseeing adventures include plenty of time for pictures, fun stories and pointers about what visitors can do to make the most of their time in Annapolis. Plans are to offer the service on the weekends in March and seven days a week in season. http://www.urbanadventures.com/Explore_the_Heart_of_Annapolis, 443-510-1348
BWI Thurgood Marshall Airport—In October 2014, Southwest Airlines will begin offering nonstop service from Dallas Love Field to BWI Thurgood Marshall Airport. In its 43rd year of service, Dallas-based Southwest Airlines employs nearly 45,000 individuals and serves more than 100 million customers annually. Southwest is the nation's largest carrier in terms of originating domestic passengers boarded, and it operates the largest fleet of Boeing aircraft in the world. It serves 96 destinations in 41 states, the District of Columbia, the Commonwealth of Puerto Rico, and five near-international countries via its wholly-owned subsidiary, AirTran Airways. http://www.bwiairport.com/en 410-859-7111 or 1-800-I-FLY-BWI
BWI Thurgood Marshall Airport—In January 2014, Spirit Airlines announced its plans to offer new nonstop seasonal service from Minneapolis-St. Paul to BWI Thurgood Marshall Airport in Anne Arundel County. The new service will consist of one daily nonstop flight from May 1, 2014 through November 1, 2014. Spirit's all-Airbus fleet currently operates more than 250 daily flights to over 50 destinations within the U.S., Latin America and the Caribbean. http://www.bwiairport.com/en, 410-859-7111 or 1-800-I-FLY-BWI
BWI Thurgood Marshall Airport—On July 1, 2014, Southwest Airlines will make its first international flights, including flights between Baltimore and Aruba, the Bahamas and Jamaica, as the carrier takes over routes flown by subsidiary AirTran Airways. Daily flights will operate between Baltimore-Washington International Thurgood Marshall Airport (BWI) and Aruba and Nassau, Bahamas. The airline will operate twice-daily flights between BWI and Montego Bay, Jamaica. AirTran flies on those routes today. AirTran currently offers direct flights from Baltimore to Cancun. Together, the two carriers serve 70 percent of BWI's passengers. Southwest acquired AirTran in May 2011 in a deal it valued at $3.2 billion. http://www.bwiairport.com/en, 410-859-7111 or 1-800-I-FLY-BWI
Destination Paradise introduced new "Do-Gooding" teambuilding events in the fall of 2013. In keeping with the theme, Goodness is as Goodness does, the company custom creates teambuilding events to benefit the charity of the participating organization's choice. Each of the activities is customized to meet the client's objectives. www.destination-paradise.com, 1-800-391-6560
Odyssey Massage held its grand opening at 31 Maryland Avenue in Annapolis in February 2014. Founded by Martina Ferret and Tim McClennen, the business is committed to taking its clients on an individualized holistic journey into wellness. Odyssey Massage focuses on providing rigorous massage treatments in an elegant environment. Included on its team are an athletic trainer, a massage therapist and a former professional boxer who works with athletes. Plans are to add a doctor of chiropractic. www.facebook.com/OdysseyMassage, 410-263-3646
Parking Meter Rates Lowered—Individuals who use parking meters in downtown Annapolis have a little bit more money to spend on shopping and dining, thanks to a cut in hourly parking meter rates through March 31, 2014. Beginning on January 15, 2014, the city instituted a short-term lowering of parking meter rates at its 384 downtown meters from $2 to $1 an hour. The City understands there might be a loss in revenue during the trial period, but it also realizes the lower rates might trigger increased meter usage. When the trial period is over, the City will evaluate the benefits and determine whether or not to extend the reduction period. http://www.parkannapolis.com/, 410-216-9436
Poiana Nail Spa held a ribbon cutting at its 1901 West Street, Suite 106 location in Annapolis in November 2013. Operated by owners Tiffani Tran and Melissa Nguyen, the fully licensed salon specializes in hand and foot care of all kinds, as well as waxing, threading, eyebrow tinting, creative freelance nail art and individual eyelash extensions. In addition to offering an extensive range of nail and pedicure services provided by a skilled team of eight, the shop also offers casual meeting space for birthday celebrations and wedding parties.
Professional Sports Care and Rehab held a ribbon cutting at its Eastport, Annapolis clinic at 1013 Bay Ridge Avenue, Suite 410 in October 2013. Annapolis is the 50th location for the provider of physical therapy and sports medicine services. The Annapolis center provides services and treatment, including sports medicine and athletic training as well as physical and aquatic therapy. Owners Tom Yoviene and Chuck Mutschler say the facility offers state of the art equipment and cutting edge treatments in a community-based setting. www.prosportscare.com, 443-221-7743
The Copper Bowl Spa & Holistic Studio opened its doors at 5954 Deale-Churchton Road in Deale in January 2014. It offers manicures, pedicures, facials, waxing, massage, acupuncture, energy modalities, yoga and more. http://www.thecopperbowldeale.com/, 443-294-6612
What's New with Retail
Annapolis Resale Furniture and Finds moved from 1825 George Street to its new location at 17 Lincoln Court in Annapolis. A ribbon cutting was held at the new location in November 2013. The business specializes in buying and selling unique and vintage pieces as well as new items. A self-professed "Annapolis antique junkie," owner Hilly Hoyle showcases home furnishings that include desks, tables, paintings, glassware, sofas, lighting and accent pieces. www.annapolisresalefurniture.com, 443-458-5666
CleaVe THE BOUTIQUE celebrated the opening of its 45 West Street store in Annapolis with a ribbon cutting in January 2014. Owner Valerie Yancey says the wedding and party planning, gifts and accessories boutique features more than 3000 products to help individuals satisfy all of their wedding and party planning needs. In addition to offering everything from invitations to party favors, the boutique showcases fashion apparel and accessories, jewelry, perfume, aromatherapy candles and bath gels, and a host of other gift items, some of which are made by local artisans. The boutique has a team of in-house consultants that provide wedding tips for brides or individuals looking for recommendations on how to plan an event. The boutique hosts party planning workshops and other specialty classes monthly for those interested in learning more about wedding etiquette, event planning, and design. www.cleavetheboutique.com, 410-263-3330
Grand Paws Pet Salon and Spa marked its move from West Annapolis to a new, larger location at 921-B Chesapeake Avenue in Eastport, Annapolis with a ribbon cutting in October 2013. Grand Paws strives to provide the best environment possible for pets and the highest quality of service. The salon and spa offers quick turnaround times, minimal time in a kennel, pet playtime and socialization and a variety of unique spa services. www.grandpawsannapolis.com, 443-949-7199.
HERE. A POP UP SHOP has been popping up roughly every eight weeks in the Annapolis and West Annapolis area since March 2013. Featuring almost all local artists and designers, a selection of jewelry, art, photography, home goods, gifts, on-trend scarves, clothing and more, the pop up shops typically fill a vacant storefront for a ten-day period. Opening parties for the shops generally include live music and special events. Run by Amy Fresty and Ellen Lunay, each of the pop up shops includes a give back day that benefits a specific local charity. Thus far, Here. A Pop Up Shop has popped up at seven different locations. The next one is scheduled to run from March 27 through April 6 at Maryland Hall for the Creative Arts. Pop up shops are trending in other cities, including New York, Los Angeles, San Diego and Austin. http://www.hereapopupshop.com, 443-676-8729
WRABYN Women's Boutique officially opened its doors at 12 Annapolis Street in West Annapolis in November 2013. The women's clothing and accessories shop features fashions from a curated selection of designers. The focus is on helping patrons to discover and enhance their signature style. Wrabyn welcomes private events and personal styling sessions by appointment. 410-267-0757
Significant Anniversaries
Annapolis Amblers Walking Club will celebrate its 25th anniversary at its Walk Annapolis event on Saturday, April 12, 2014. Sanctioned by the Maryland Volkssport Association, the event starts at Maryland Hall for the Creative Arts at 8:00 a.m. The trail is 10 km (6.2 miles). A 5 km (3.1 miles) is also available. Participants are invited to walk, jog or run at their own pace. The Annapolis Amblers Walking Club was formed in the summer of 1989 by a small group of avid walkers. www.annapolisamblerswalk.com.
Banneker-Douglass Museum—In February 2014, the Banneker-Douglass Museum began celebrating thirty years of documenting, preserving, and promoting Maryland's African American heritage. To memorialize the anniversary, the Museum commissioned famed visionary artist Loring Cornish to create a one-of-a-kind work of art from fragments of the site's original stained glass windows. http://www.bdmuseum.com/, 410.216.6180
Infinity Theatre Company celebrates its fifth anniversary season in 2014 with its June 7-29 regional premiere of the Off-Broadway hit, Hank Williams: Lost Highway, directed by the show's Tony Award nominee, Randal Myler. The play follows legendary singer-songwriter Hank Williams through his turbulent career. Infinity Theatre's season will continue with performances of I Do! I Do! from July 12-August 3. http://www.infinitytheatrecompany.com/, 877-501-8499 or 443-424-5067
Maryland Hall for the Creative Arts is celebrating its 35th anniversary in 2014 by embarking on a milestone renovation project designed to enhance and expand creative opportunities for the community. Work on the first phase of improvements is slated to begin in June 2014. http://www.marylandhall.org/, 410-263-5544
Boatyard Beach Bash celebrates its tenth anniversary on Saturday, September 20, 2014. Produced by the Boatyard Bar and Grill to benefit the Annapolis Maritime Museum, the event has a Jimmy Buffett/Parrot Head theme. With the help of Florida singer/songwriter John Frinzi, past musical guests have included long time Coral Reefers Doyle Grisham and Michael Utley. The 5:00 p.m. to 9:00 p.m. rain or shine celebration will be held at the Annapolis Maritime Museum in Eastport, Annapolis. It will include an extensive grilled buffet dinner by the Boatyard and signature cocktails in a beachside setting. The event is expected to raise more than $50,000 net of expenses for the Annapolis Maritime Museum. http://www.boatyardbarandgrill.com/events/beach-bash, 410-216-6206
Oyster Recovery Partnership celebrates its 20th anniversary in 2014. Recent accomplishments for the Annapolis-based ORP and its partners include the production of 1.2 billion native baby oysters (spat) at the University of Maryland's Horn Point Laboratory Oyster Hatchery. The majority of the spat was planted into the Harris Creek Sanctuary. This is the first time a hatchery in the United States produced more than one billion Eastern oyster spat in a single season. ORP has also grown its Shell Recycling Alliance (SRA), which now collects shells from approximately 200 restaurants in Maryland, Delaware, Pennsylvania, Virginia and Washington, DC. The SRA has collected more than 30,000 bushels of shell, making it the largest recycling program of its kind. Twenty years ago, the Oyster Recovery Partnership was commissioned as a cooperative coalition of multiple partners that contribute toward a large-scale restoration program that plants disease-free oysters back into the Chesapeake Bay. www.oysterrecovery.org, 410-990-4970
Kudos
Amtrak—More than 31.6 million passengers traveled on Amtrak in Fiscal Year 2013, which ended September 30, 2013. This marked the highest annual ridership total since Amtrak started operations in 1971. It was also the tenth ridership record over the last eleven years. During FY 2013, Amtrak's state-supported corridor services grew to a new record of 15.4 million passengers. In addition, all long distance routes combined had the best ridership in 20 years with 4.8 million passengers. Ridership for all Northeast Corridor services reached 11.4 million passengers, the second best year ever. As evidence of a strong ridership rebound following Super Storm Sandy, the Northeast Regional service set a new record. Similarly, FY 2013 produced eight individual monthly ridership records, the single best month in Amtrak history and new records on 20 routes. Its ticket revenue increased to a record $2.1 billion. http://www.amtrak.com/home, 1-800-USA-RAIL
City of Annapolis—The City of Annapolis has been awarded Sustainable Maryland Certification status for its commitment to protecting Annapolis' natural assets and revitalizing the community. The City received its certification for demonstrating a commitment to local food production by partnering with a local non-profit, Fresh Farm Markets, to establish a downtown farmers market. The City also partnered with local non-profit, Grow Annapolis, to establish the City Dock Community Garden. In a similar vein, Maryland's capital city passed an innovative ordinance permitting the keeping of urban backyard chickens, among other initiatives. http://www.ci.annapolis.md.us/government/city-departments/neighborhood-environmental 410-263-7946
The AAACCVB is a nonprofit, membership-based, destination marketing organization that generates revenues for the local economy by promoting Annapolis and the Chesapeake Bay to leisure and business travelers across the country and around the world.
Source: AAACCVB