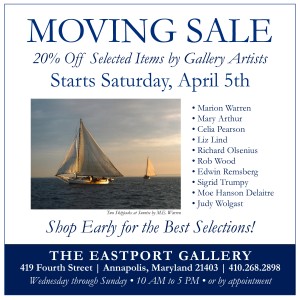 We just received this note from Joanie Surette, the owner of the Eastport Gallery on Fourth Street.  The gallery was a personal favorite and will be missed. But we wish her all the best in the new venture in South County!
After a great run, The Eastport Gallery will be closing its doors at the end of April and setting sail for new horizons. Many wonderful people have come through the door of The Eastport Gallery and I thank you for your patronage. I will be having a sale with 20% off selected items by gallery artists beginning this Saturday, April 5. Shop early for the best selections!

I'm moving to Discovery Village down in Shady Side, Maryland with a view of the Chesapeake Bay Bridge where I will be re-grouping my business and focusing on The Marion Warren Photography Collections. They will be available for viewing and purchase by appointment in a studio setting, not in a retail gallery space, through special events, exhibits, a new website and social media. Stay tuned for more news in the coming weeks.

I'm proud of the work I've done with a beautifully talented and dedicated group of artists in the six years that I've had the gallery, but small retail business is going through radical changes and the art world is not immune. It's time for a change, so I'm moving onward.