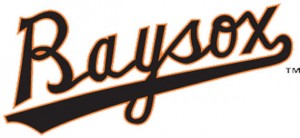 The Baysox offense started slow and could not overcome an eighth inning rally by Akron in a 3-2 loss to the RubberDucks Thursday night in game one of a three game home series. It was the Baysox fourth one run loss in the team's last six games.
Akron struck first in the top of the fourth inning against Baysox starter Tim Berry. Giovanny Urshela hit a one out single to shortstop and moved to second base on a single to center field by Brandon Myles. Urshela scored from third base on a two-out double to right field by Tony Wolters to make the score 1-0.
The Baysox came back to take the lead in the bottom of the sixth inning against Akron starter Will Roberts. With two outs, Christian Walker singled to center field and scored on a Dariel Alvarez double to center field. Chih-Hsien Chiang then brought Alvarez home with a single to center field to give Bowie a 2-1 lead.
Akron retook the lead in the top of the eighth inning against Baysox reliever Marcel Prado. Jordan Smith hit a lead off double to center field and Francisco Lindor drew a one out walk. Joe Wendle advanced the runners on a ground out  and Urshela brought them both home with a two-out single to center field to give the RubberDucks a 3-2 lead.
Berry pitched six innings and allowed one run on five hits while striking out three and walking two in the no decision. Prado pitched two innings and allowed two runs on two hits while striking out three and walking one in the loss. Reliever Fabio Castillo pitched a scoreless ninth inning for the Baysox, not allowing a hit while striking out one and walking one.
Roberts earned the win for Akron, pitching seven innings and allowing two runs on six hits while striking out three and walking two.
LHP Jake Pettit (1-1, 7.20) takes the mound for the Baysox Friday as the team plays the second game in a three game series with the Akron RubberDucks. He will be opposed by RHP Kyle Davies (0-1, 1.50).
The Baysox are home through Thursday, April 24 for an eight-day, seven-game homestand against Akron and Erie. Promotional highlights include Bellies & Baseball Friday, April 18 beginning at 6:35 p.m. and the Spring Fling Saturday, April 19 beginning at 2:05 p.m.
Baysox Baseball – We'll Knock Your 'Sox Off. The Baysox 2014 season, their 22nd as the class Double-A Affiliate of the Baltimore Orioles, is underway at Prince George's Stadium. Come see some of the top Orioles prospects play here first. To keep up with Baysox news during the season, visit baysox.com.