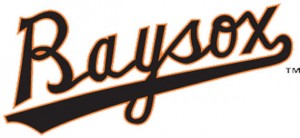 Bowie scored six fourth inning runs, all of which with two men out, and hung on to upend Akron by a final score of 7-5 Sunday afternoon at Canal Park. 2B Garabez Rosa continued his torrid start with a three-run home run to break the inning open.
Akron grabbed the lead early as C Alex Lavisky homered off of an off-speed pitch down from starter Jake Pettit (1-1). The two-run blast put Akron on top 2-0.
Bowie answered though as after RF Chih-Hsien Chiang doubled to centerfield with one down, CF Dariel Alvarez reached on a throwing error by SS Ronny Rodriguez. The door was open and the Baysox waltzed through.
Rosa hit the three-run home run to right field, his second of the year to put Bowie atop, 3-2. LF Ronald Bermudez reached on and infield single and then scored when C David Freitas hit a hard groundball double down the left field line. 3B Buck Britton then brought Freitas home with a soft single to left field. And the scoring continued when SS Niuman Romero doubled to the gap in left-center scoring Britton easily on a 3-2 pitch to bring home a sixth Baysox run.
Pettit gave the tired bullpen a respite with six-plus innings of work but he left in trouble in the seventh inning after the first four RubberDucks reached base. Reliever Marcel Prado entered and got a double play ball to preserve a two-run lead to the eighth inning.
Bowie added an insurance run on a solo home run to left field from Bermudez. The drive was his first of the year. Oliver Drake came on and allowed a run earning his second save of the year.
The Baysox now head two hours north to Erie, PA for a three-game series starting Monday, April 14th. Opening Day starter Eduardo Rodriguez (1-1) will get the start with first pitch set for 6:35 p.m. Coverage begins 20-minutes prior on wnav.com.
Bowie returns home Thursday, April 17th for Pi(e) Night to celebrate the mathematical equation and the tasty treat. Akron will be in town for the 6:35 p.m. start. Get tickets by calling the Baysox at 301-805-6000 or by purchasing online at baysox.com.