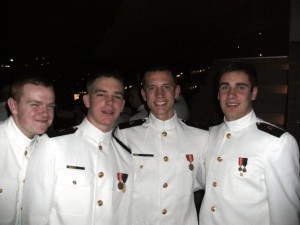 Tickets are on sale now for the Naval Academy's 48th annual International Ball to be held Saturday, April 5 at 7:30 p.m. in Alumni Hall; doors will open at 7 p.m. This event is open to the public, ages 18 and up.
Tickets are required and can be purchased for $15 each until Wednesday, April 2 at http://navyperforms.showare.com/eventperformances.asp?evt=31. Tickets will not be sold at the door.
The annual International Ball is a formal event to celebrate and honor the international midshipmen and officers at the academy and to broaden international exposure for the midshipmen.  Currently 55 international midshipmen and ten international officers represent 38 countries at the academy.
The ball is a black-tie event which will feature international-themed exhibition dances performed by midshipmen, live music, and also a DJ.  Appetizers and light refreshments will be served.
Guests attending this event are encouraged to use the free shuttle bus that will run from the Navy-Marine Corps Memorial Stadium to Alumni Hall from 7 p.m. to 12:45 a.m. Guests may park at the stadium by entering through Gate #5 on Taylor Avenue.  There is a $5 parking fee per vehicle. Vehicles without Department of Defense decals are not permitted on Naval Academy grounds.  Handicapped visitors with proper decals are permitted through Gate 1 after a vehicle inspection.  Guests may enter the academy by walking through Gate 3 (Maryland Ave.) which will be open until 12:30 a.m. Guests will be required to show valid, government-issued picture identification. All bags are subject to search.
For more information about the International Ball, visit http://www.usna.edu/InternationalBall/.  For more information about International Programs at the Naval Academy, visit http://www.usna.edu/InternationalProgram/programs.htm.
For more information about the Naval Academy, please visit: www.usna.edu or their Facebook page.