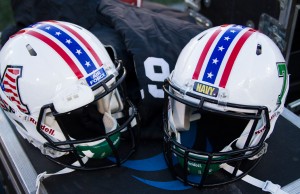 The AAACCVB is already looking forward to welcoming back the Military Bowl presented by Northrup Grumman to Navy-Marine Corps Memorial Stadium in December 2014. Figures generated by the AAACCVB's Impact Calculator indicate the December 2013 game generated more than $13 million in direct sales alone for the DC/Maryland region.
In addition to providing invaluable national exposure for Annapolis on ESPN, the event triggered a 38-percent increase in hotel occupancy in Anne Arundel County over this same time last year. According to our calculations, the City of Annapolis collected approximately $16,000 in room taxes between December 26-28. Ten Annapolis, Greater Annapolis and BWI-area hotels reported 1,700 room nights booked for Military Bowl attendees during the same time period.
December 26-28 overnight visitors spent an estimated $1 million on lodging, food and beverage, retail, and transportation throughout Anne Arundel County. Some Annapolis businesses reported as high as a ten percent increase in retail sales and a 25-percent increase in food and beverage sales over the same period in 2012.
Hopes are that overnight visitation could double for the 2014 game, with two out of state college teams participating and a ten-month promotion schedule leading up to the event. The possibility of hosting Official Team Hotels in Annapolis could generate additional local revenues.
The AAACCVB, City of Annapolis, Anne Arundel Economic Development Corporation, Maryland Sports Authority, Maryland Office of Sports Marketing and Military Bowl organizers are already rolling up their sleeves on a collaborative effort that will focus on creating "An Annapolis, Maryland" experience for the 2014 game, complete with parades and pep rallies designed to encourage attendees to extend their stay.