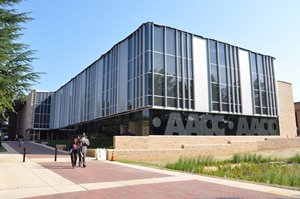 "The Blue Room," a frank, adult drama that looks at modern sexual politics and the gulf between desire and reality, will be performed at 8 p.m. Wednesday, Feb. 12, through Saturday, Feb. 15, on the stage in the Humanities Building Room 112 on the Arnold campus.
Based on the play "La Ronde" by A. Schnitzler and adapted by playwright David Hare, "The Blue Room" will be presented the Theatre at AACC with a cast composed mostly of AACC students. Featured are AACC students Jordyn Hall of Gambrills as The Girl; Rashad Ferguson of Clinton as The Cab Driver; Miguel Valarino of Glen Burnie as The Student; Karen Marmo of Chester as The Married Woman; Vitaly Mayes of Upper Marlboro as The Politician; Veronica Somers of Pasadena as The Model; Devante Smith of Baltimore as The Playwright; and Melanie Anderson of Annapolis as The Actress. The cast also includes community members Tori Reilly of Edgewater as The Au Pair and Vincent Capuano of Washington, D.C., as The Aristocrat.
The play is intended for mature audiences only, due to language and subject matter. No one under 16 will be admitted.
Tickets are $15 general admission, $12 for AACC faculty and staff, non-AACC students, seniors, groups and military personnel and $7 for AACC students with ID. Tickets are available ahead of time through the AACC Box Office, [email protected] or 410-777-2457, or one half-hour before each performance at the Humanities Building Room 112 on the Arnold campus, 101 College Parkway.
For information contact Lars Tatom, Ph.D., theatre coordinator, at 410-777-7125 or [email protected]