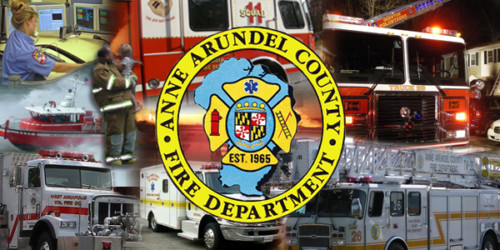 On Friday, January 10th around 10:15 a.m., Fire Department units responded to the 8100 block of Cornfield Lane in Severn for the report of a fire in a home under construction.  Upon arrival, personnel were met by the construction site manager who notified them that an individual was observed in two separate homes in the community. Upon being confronted by the site manager, the individual fled into a nearby wooded area.  Upon further investigation, one home was found to be marked with graffiti, and another damaged by fire.  Fire Investigators were then requested to the scene for further investigation.
Officers from the Anne Arundel County Police Western District operating in the area were able to apprehend a subject matching the description and obtained a positive, on-scene identification by the site manager. The suspect was then turned over to Fire Investigators and was transported to Western District Police Station.
The two homes damaged were both residential homes (under construction) located on Ridgely Loop Circle.  The combined estimated damage to both homes was $2000.00.
As a result 18 year-old Andrew Mack Torian Torian Andrew Mack of Millersville was arrested as an adult and charged with the following:
Arson 2nd
Malicious Burning
Destruction of Property x2
Reckless Endangerment
Burglary 4th degree x2
Source: AACoFD
Edit: Corrected name.
Category: Crime News, NEWS