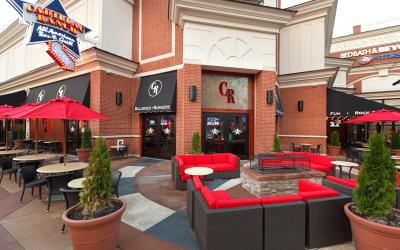 Cadillac Ranch is preparing to become the latest restaurant casualty in Annapolis. Eye On Annapolis learned today that the restaurant will be closing their doors shortly.
We are trying to find out the date of closing, and if affected employees will be offered position in their other location in the National Harbor. Emails sent to the Annapolis location bounced ;and an email sent to their corporate headquarters in Minneapolis has not been returned yet. From a former employee, he believes that January 16th will be their last operating day.
The restaurant never seemed to catch on at the Annapolis Town Centre. Despite a very inviting outdoor fireplace and the kitschy mechanical bull, the crowds never materialized. Two years ago, it was reported that the location was for sale; but the corporate  management simply re-shuffled local management and it seemed to do the trick for a little.
Last year, Real Seafood closed in the Annapolis Towne Center and was replaced by Bonefish Grill. Other recent casualties include Morton's, The Annapolis Grille (successor to Morton's), Wild Orchid, Aqua Terra, Hell Point Seafood, Crown & Anchor (successor to Hell Point) and Punks Backyard Grill.