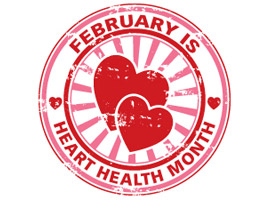 February is Heart Health Month and Anne Arundel Medical Center has a number of events on tap to educate and inform you about keeping your most vital organ in tip top shape.
Energize at Westfield: Heart Health
Date:     Wednesdays in February
2/5/2014, 11:30am-1pm
2/12/2014, 7:30-9:30am
2/19/2014, 7:30-8:30am
2/26/2014, 4-6pm
Location: 2002 Annapolis Mall, Annapolis, MD 21401
Description: In conjunction with AAMC's Heart Month, cardiac nurses will be providing blood pressure screenings, answering questions, and offering friendly advice about heart disease prevention. For more information about Energize at Westfield visit aahs.org/energizeatwestfield. No registration required.
Heart Attack Awareness
Time: 10-11am
Location: Severna Park Community Center, 623 Baltimore Annapolis Blvd., Severna Park, MD 21146
Description: Join an AAMC cardiac nurse in a discussion about heart and vascular health. Understand the importance of knowing warning signs of a heart attack and the importance of early detection. Dare to C.A.R.E  will also be providing free vascular screenings (for those that qualify – visit Dare to C.A.R.E  to find out if you meet eligibility requirements visit -no registration required)
Young Adults Cardiac Support
Time: 4:30-5:30pm
Location: Anne Arundel Medical Center, Belcher Pavilion, 7th floor, 2001 Medical Parkway, Annapolis, Md.
Description:   Dr. Scott Katzen will address the support group to speak on heart health and intervention times —what to do and when.  Young adult cardiac survivors 35-50 years old meet others survivors and provide support to each other. For more information contact Dianne Walters, RN, at 443-481-1928.
Smart Woman: Heart Disease -Public Enemy #1
Time: 6:30pm
Location: AAMC Doordan Institute, Belcher Pavilion (formerly Health Sciences Pavilion), 7th Floor, 2000 Medical Pkwy, Annapolis, MD 21401
Description: Women are at Risk! Let's get our Hearts/Bodies healthy to fight this #1 threat! Listen to our experts as they help to keep us fighting heart disease. Register at aamcevents.org
docsTALK: Saving a Million Hearts
Time: 6-7:30pm
*Location: *NEW docsTALK on the road!!
Westfield Annapolis, Crate & Barrel Court, 2002 Annapolis Mall, Annapolis, MD 21401
Description: Join hosts Drs. John Martin and Briana Walton for a special edition of docsTALK as they discuss a few commons myths and facts about heart disease and stroke. The friendly banter and advice will culminate in a time when you can ask your questions about just about anything. Registration is not required for this event. No registration required.