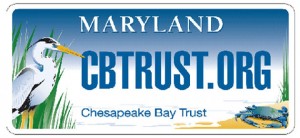 The Department of Agriculture (USDA) and the Department of the Interior (DOI) recently announced that the Chesapeake Bay Trust is one of 91 initial organizations nationwide that have been approved as member organizations to help implement the Obama Administration's 21st Century Conservation Service Corps (21CSC). The 21CSC is a national collaborative effort to put America's youth and veterans to work protecting, restoring, and enhancing America's natural and cultural resources.
"The Chesapeake Bay Trust is honored to have been selected as one of the first organizations nationwide to partner with the 21st Century Conservation Service Corps," said Jana Davis, executive director of the Chesapeake Bay Trust, which runs the Chesapeake Conservation Corps. "Our new Conservation Corps program has provided green job training and professional development skills for almost 100 young people thus far to teach them the skills they need to launch environmental careers and protect our natural resources."
The Chesapeake Bay Trust's Chesapeake Conservation Corps program was created in 2010 and matches young people, ages 18-25, with organizations throughout the state of Maryland for stipend-supported, one-year terms of service. During the course of one year, Chesapeake Conservation Corps participants work for a variety of organizations, including watershed groups, county governments, area schools, and other not-for-profits, to advance environmental conservation and protection of local rivers and streams and the Chesapeake Bay.  In addition to gaining work experience and helping organizations accomplish their missions, these young people each year engage over 15,000 volunteers, teach 27,000 students, plant 28,000 trees and native plants, install 10 acres of stream buffer and 25,000 square feet of rain garden, raise and release millions of baby oysters, and put on 400 workshops reaching over 4,000 attendees.
The national 21CSC program engages young Americans aged 15-25, and veterans up to age 35. Through the 21CSC, young people and veterans will accomplish meaningful work, gaining important personal and professional skills and builds a lifelong connection to the outdoors.
All 21CSC participants gain skills, and deliver results that include enhancing recreational opportunities and access, protecting wildlife, restoring impaired watersheds, removing invasive species, increasing energy efficiency, preserving historic or cultural sites, enhancing community spaces, coordinating volunteers, supporting monitoring or data needs, responding to natural disasters, reducing hazardous fuels and protecting communities from wildfire.
Increasing diversity and expanding opportunities for all youth and veterans are core 21CSC principles: all 21CSC member organizations emphasize diversity and inclusion, and the 21CSC National Council will focus in the coming months on recruiting additional member organizations, targeting new programs in diverse areas, and investing in training and career pathways for a diverse group of participants.
The 21CSC is supported by the federal 21CSC National Council, which includes members from USDA, DOI, the Corporation for National and Community Service [CNCS], the Army Corps of Engineers, NOAA, the Department of Labor, the Environmental Protection Agency, and the Council on Environmental Quality, and by the Partnership for the 21CSC, which was launched in June of 2013 as a collaborative group to support the 21CSC.
For the Federal Register notice inviting letters of interest and outlining the eight principles, visit http://www.gpo.gov/fdsys/pkg/FR-2013-07-01/html/2013-15644.htm
For more information, visit the partner-hosted website www.21csc.org.
For more information on the Chesapeake Bay Trust and the Chesapeake Conservation Corps program, visit www.cbtrust.org.
Category: Crime News, LIFE IN THE AREA