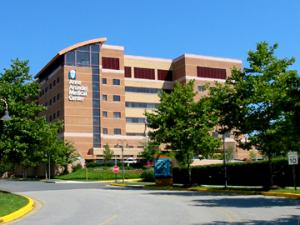 Controversy over healthcare reform?  You won't find it among the seniors at the Morris H. Blum Senior Apartments in downtown Annapolis. They are among a group of citizens benefitting from a new healthcare reform model that makes care accessible and affordable in their neighborhood.
Prompted by legislation passed last year by the Maryland General Assembly designating five Health Enterprise Zones, today the Annapolis Community Health Partnership held a ribbon-cutting ceremony for the AAMC Community Clinic at Morris H. Blum.  The Partnership consists of Anne Arundel Medical Center (AAMC), the Housing Authority of the City of Annapolis, the City of Annapolis, and the Anne Arundel County Departments of Health and Aging and Disabilities with funding through the Maryland Community Healthcare Commission.
Residents already are benefitting. With some encouragement from AAMC nurses, a group of residents began a walking group. One resident began with a walker and frequent breaks—she is now doing three laps and has lower blood pressure. Another has lost 10 pounds; her friend has lost 17 pounds. They average about 2,500 steps daily on their walks—some doing this without athletic shoes. The clinic began seeing patients last month.
Victoria Bayless, president and CEO of AAMC, notes, "We have been involved with the community for some time and health improvement is already apparent. Through our nurse outreach efforts, we have worked with community members to communicate healthy living opportunities—building on the healthcare resources we already provide to the area."
In January 2013, Lt. Governor Anthony G. Brown announced the designation of the state's first Health Enterprise Zones in five locations. The HEZ initiative was designed to reduce health disparities among racial and ethnic minority populations, improve healthcare access and outcomes in underserved communities and reduce healthcare costs.
The Annapolis Community Health Partnership is focusing on a currently medically underserved neighborhood with high rates of emergency room utilization, hospital admissions and readmissions and a large volume of medical 911 calls. The AAMC Community Clinic at Morris H. Blum, nestled in the community it is meant to serve, is easily accessible by foot or public transportation. The on-site physician, Claudia Arumala, MD, and her staff will be in the clinic 40 hours a week to provide comprehensive primary care to the entire neighborhood. The clinic will treat infants, children and adults in the surrounding community who are uninsured, under-insured or have public coverage.
"We are excited about bringing primary care services where residents need them, "says Pat Czapp, MD, AAMC's chair of clinical integration.  "By having a regular doctor in a regular site, patient-physician relationships strengthen and care improves."
AAMC utilizes the clinic through its integrated electronic medical record system to securely store patient information and make it accessible to physicians, care teams and the patients themselves, regardless of time or patient location. Health outcomes will be monitored and demonstrated by measuring patient satisfaction, improving management of chronic disease and decreasing preventable medical 911 calls, emergency room visits and hospital admissions.
Category: LIFE IN THE AREA, NEWS