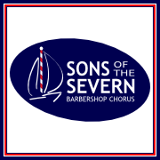 The Sons of the Severn chorus will host a Holiday Guest Chorus program for men, beginning Thursday, November 7 in Annapolis. Male singers of all ages are invited to join the award-winning barbershop chorus for seven evenings, and learn a repertoire of seasonal carols in unaccompanied four-part harmony.
Rehearsals will take place Thursdays at 7 pm (excluding Thanksgiving), from November 7 through December 12, at Trinity United Methodist Church on West Street. The program will conclude with a performance by the Holiday Guest Chorus at the Sons of the Severn Friends & Family Christmas celebration on Thursday, December 19.
There is no cost, no formal audition, and no obligation beyond the one performance. Men interested in participating should call 410-674-7165, or e-mail [email protected] for more information.
The Sons of the Severn chorus is the performing arm of the Anne Arundel County, Maryland Chapter of the Barbershop Harmony Society (SPEBSQSA, Inc.). The chorus is a 501(c)(3) non-profit organization, dedicated to preserving and advancing the American art form of barbershop harmony through, education, performance, and community outreach. For a complete schedule of events, please visit the chorus' official website at www.SingAnnapolis.com.