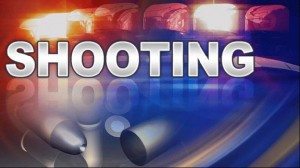 On November 14, 2013, at approximately 4:30 p.m., officers from Western District responded to the 8200 block of Marlton Court in Severn for a shots fired call.
Upon arrival, officers spoke with the occupants of the townhome. The occupants consisted of six adults and four children, ranging in ages from 1-year-old to 10-years-old. They were celebrating the youngest child's first birthday when they heard a gunshot, causing the front storm door to shatter. Immediately after the first shot, the occupants reported hearing additional shots, but none of those appeared to strike the house. Officers later located a projectile resting on the floor in the kitchen as it had passed through the living room wall before striking the refrigerator. Glass from the shattered door struck a toddler, but no injuries were sustained.
While officers were still on scene, they were advised that a 25-year-old male gunshot victim had just arrived at Baltimore Washington Medical Center. Officers immediately responded to the hospital and spoke to the victim, who indicated that he was walking to a relative's home in the 8200 block of Marlton Court when he was suddenly shot in his leg. His wound was not life threatening. No suspect information has been developed at this time and this incident does not appear to be random in nature. It is believed that numerous witnesses were in the area and the Police Department urges residents to come forward to provide information to solve this crime. At this time, the agency is not receiving cooperation from the victim or the community. Anyone with information can contact Western District Detectives at 410-222-6155 or the Anne Arundel County Police Department at 410-222-8610. In addition, residents can remain anonymous by contacting Metro Crime Stoppers.
Source: AACoPD