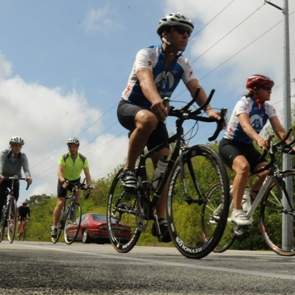 The driver of the car that killed Patricia Cunningham will not face criminal prosecution in the death of the bicyclist said the State Attorney's Office in Annapolis. Their statement follows:
An Anne Arundel County grand jury on Friday declined to indict any criminal charges against a motorist who struck and killed an Annapolis bicyclist in August.

As a result Whitney Decesaris, 37, of Calvert County, will be charged with negligent driving and related traffic offenses.

On August 21, Patricia Cunningham, 50, was riding a bicycle on Riva Road in Davidsonville when she was struck by a 2011 Honda Odyssey, driven by Decesaris. Both women were traveling south on Riva Road at the time. Ms. Cunningham was taken to Anne Arundel Medical Center, where she later died.

The grand jury determined that there was no probable cause to charge the driver with Criminally Negligent Manslaughter, CR 2-210, which would have required a finding that she drove in a manner that was a gross deviation of the standard of care that a reasonable person would exercise under the circumstances. As a result of the grand jury's decision, the Anne Arundel County police will issue negligent driving and related traffic offenses to the driver by citation.

State's Attorney Anne Colt Leitess remarked that the accident which resulted in the loss of Ms. Cunningham's life was tragic for her friends, family and the community. Ms. Leitess noted that the newly enacted Criminally Negligent Manslaughter statute specifically excludes acts of ordinary negligence and her office and the Maryland State's Attorney's Association has sponsored and continually lobbies for a more appropriate legal standard of proof for negligent manslaughter.
Category: Breaking News, Crime News, NEWS