Naval Academy Director of Athletics Chet Gladchuk announced after Saturday's victory over South Alabama that the Naval Academy has qualified to play in the Bell Helicopter Armed Forces Bowl on Monday, Dec. 30 at Amon G. Carter Stadium in Fort Worth, Texas against a projected opponent from the Mountain West. Kickoff is set for 10:45 AM in Fort Worth (11:45 AM in Annapolis)and will be televised nationally by ESPN. This will be Navy's 10th bowl game in the last 11 seasons.
This will be Navy's fifth trip to Texas for a bowl game and the first since Navy's 35-13 rout of Missouri in the 2009 Texas Bowl in Houston. Navy has also played in the 2003 EV1.net Houston Bowl (lost to Texas Tech, 38-14), the 1964 Cotton Bowl in Dallas (lost to Texas, 28-6) and the 1958 Cotton Bowl in Dallas (beat Rice, 20-7).
"We are excited about the opportunity to travel to Fort Worth and play in a first-class bowl game," said Gladchuk. "The city of Fort Worth, the stadium, the hospitality from the community and the bowl administration present as fine a postseason experience as we could possibly enjoy. The Academy is sincerely grateful to Brant Ringler and his staff for inviting us and setting the stage for our team to earn an enjoyable trip to the great city of Fort Worth and an inspiring matchup versus an opponent from the Mountain West Conference."
"I am very happy for our young men and our program that we are going back to a bowl game for the 10th time in the last 11 years," said Navy head football coach Ken Niumatalolo. "Right now our only focus is to finish out the regular season on the right note by beating San Jose State and Army and winning the Commander-In-Chief's Trophy, but we are thrilled to be going to Fort Worth."
"Congratulations to the U.S. Naval Academy football team on becoming bowl eligible for the fifth time in six years under Coach Niumatalolo's watch," said Brant Ringler, the Executive Director of the Bell Helicopter Armed Forces Bowl. "The Bell Helicopter Armed Forces Bowl and the City of Fort Worth are very excited to roll out the red carpet for Navy's football team, its midshipmen, alumni and fans. I've witnessed firsthand the pageantry and tradition that is Navy football and truly look forward to it all being put in display for our city and fans to enjoy."
Tickets for the Bell Helicopter Armed Forces Bowl are on sale now at: http://bit.ly/LNw2FX
Tickets can also be purchased starting Monday morning at 9 a.m. by calling 1-800-US4-NAVY or at the Ricketts Hall Ticket Office.
Ticket prices are $30 (Lower Level & Upper Level End Zone), $40 (Upper Level Sideline), and $50 (Lower Level Sideline). The only way to sit with the Navy contingent is to buy your tickets through the Navy Ticket Office.
Fans can also purchase tickets to sponsor midshipmen and enlisted personnel and their families for $50 per ticket. Donated tickets are 100% tax deductible.
The Naval Academy class that donates the most tickets receives a 30% discount on football season tickets for 2014 for every member that donates four or more tickets. Any individual that donates 10 tickets or more will receive a 30% discount on the 2014 season ticket package regardless of class affiliation. Be sure to donate in your correct ticket account that signifies you as a USNA Alumni.
"We strongly encourage Navy fans to buy their bowl tickets directly from the Naval Academy Athletic Association," said Gladchuk. "It is very important for this game and for future Navy bowl considerations for our fans to purchase tickets through the NAAA. If you can't make it to the game, we ask that Navy fans buy tickets for our midshipmen and enlisted personnel which will allow us to create the usual pageantry of Navy football."
Anthony Travel is the official Naval Academy Bell Helicopter Armed Forces Bowl travel agency. Travel packages include hotel accommodations at the Omni Fort Worth Hotel (Navy team hotel). Visit http://bit.ly/1csCTT5 and search Navy Bowl or call (888) 632-6951 to make your reservations.
Visit www.usna.com/bowl for updates, information and links to all of the Bell Helicopter Armed Forces Bowl information. Hope to see you in Fort Worth, Texas!
Military Bowl To Be Held In Annapolis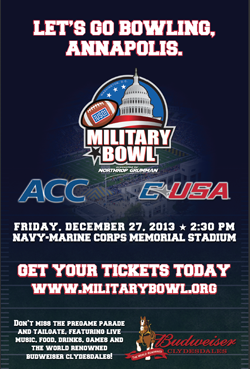 And if Texas is not on your post-Christmas radar, remember, Annapolis and the Navy-Marine Corps Memorial Stadium is hosting the Northrup Grumman Military Bowl on Friday, December 27th right here in Annapolis. We have heard (but not confirmed) that University of Maryland will be playing in this bowl–so get your tickets now!
Category: Events, LIFE IN THE AREA, Local News, NEWS, Sports