The Jess Carson Foundation is thrilled to be partnering with The Metropolitan on this exciting fundraiser to benefit critically ill and terminally ill children. A music extravaganza, this event will feature 14 of the area's most talented bands and singer-songwriters playing everything from funk to jazz, bluegrass to reggae, folk and back. Starting at 11 am and ending at 7 pm, it will spread across both the second floor and the upstairs rooftop for a music lover's delight.
This fun-filled event is being held in memory of Jess Carson, a life-long resident of Annapolis, lover of music, and a fan of great gatherings with friends and family. Jess played varsity lacrosse and was a 1997 Broadneck High School graduate. Jess was also an integral part of the Annapolis Chart House Restaurant family as he worked his way through high school and into his University of Maryland years studying economics. In 2001, Jess was a passenger killed in a tragic car accident while returning home from a Baltimore Orioles game—only weeks from his UMD graduation and beginning his new position at Alex Brown. Jess was 22 years old.
In 2002 The Jess Carson Foundation, a 501(C)(3) charity in Annapolis, Maryland, was founded by the friends and family of Jess who wished to continue Jess' compassionate spirit and generous heart by aiding critically ill and terminally ill children and their families during the difficult challenges that they face each and every day. The mission of The Jess Carson Foundation (JCF) is to offer hope for each new tomorrow by supporting charitable, medical, educational, and recreational programs that fulfill the special needs and interests of the families facing the difficult challenges of caring for a child with critical illness.
To date, we have raised over $200,000 for this mission, and we are proud that the projects and programs we have supported will reach thousands of children for many years to come. Last year alone, The Jess Carson Critical Care Training Program at Anne Arundel Medical Center (AAMC) saved the lives or changed the outcomes for over 1,000 children! In 2011, The JCF partnered with Hospice of the Chesapeake to launch Anne Arundel County's first and only Pediatric Hospice Program. These projects and many more help us realize that through our efforts in Jess' memory, Jess will continue to be a part of the community he loved so much. His big heart and magnificent smile are now passed to the families that are touched by programs put in place by The Jess Carson Foundation.
100% of ticket sales and a portion of food and beverage sales will be donated to The Jess Carson Foundation. So COME HUNGRY & THIRSTY, and BRING ALL YOUR FRIENDS! JessFest wristbands will allow easy re-entry throughout the day.
Musical Guests Include: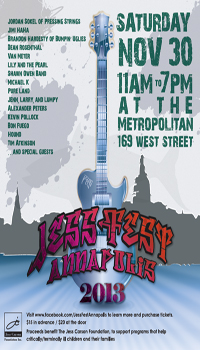 Second Floor Stage
Hound 11:45AM
Bon Fuego 12:45pm
Jen, Larry and Lumpy 1:45pm
Dean Rosenthal's 4 Piece Racket 2:45pm
Pure Land 3:45pm
Shawn Owen Band 4:45pm
Jordan Sokel of Pressing Strings 5:45pm
Rooftop Lounge
Tim Atkinson 11:30AM
Michael K 12:15pm
Lily and the Pearl 1:15pm
Van Meter 2:15pm
Kevin Pollock 3:15pm
Brandon Hardesty 4:00pm
Jimi HaHa 5:00pm
Alexander Peters 6:00PM
[do action="show-music-schedule"/]