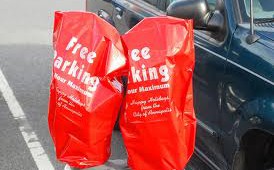 Continuing with a longstanding Annapolis tradition, Mayor Joshua J. Cohen is offering shoppers two hours of free metered parking in downtown Annapolis through January 1.
"Downtown Annapolis is a magical place during the holidays," Mayor Cohen said.  "Our community comes together to make it a more festive time, from the Annapolis Business Association to the Jaycees and other groups.  Offering free on-street parking is one way the City can contribute to enduring appeal of Annapolis during the holidays."
In addition to offering this annual tradition, Mayor Cohen also asked Transportation Director Richard Newell to present seasonal and flexible parking pricing options to the City's Transportation Board and Transportation Committee for consideration by the next Council and Administration.
"Market pricing is absolutely necessary to achieve better use of our parking facilities," Mayor Cohen said.  "We have put many pieces in place, but we haven't yet found the sweet spot that I believe will only come with adjusting parking rates seasonally, and possibly even daily."
The two hours of free holiday parking is available at all two-hour metered parking spots on Main Street, Francis Street, West Street, Maryland Avenue, Prince George Street, City Dock and Market Space, as well as the Donner lot, adjacent to the former Fawcett's on Compromise Street.
The two hours of free parking is available only for the two-hour meters. The thirty-minute meters at the base of Main Street will only offer thirty-minutes of free parking.  Parking enforcement remains in effect, and drivers must their vehicle after the allotted time.
Category: NEWS