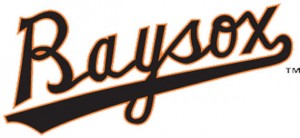 The Bowie Baysox are pleased to announce several new additions to the team's front office. Brandon Rolfe, Ted Elsasser and Joe Miller make the jump from full-season interns to front office staff while Ashley Nalley joins the Group Sales staff from outside the organization.
Rolfe moves into his new role as Group Events Manager after serving as the Baysox Stadium Operations intern during the 2013 season. A Portland, Maine, native and Thomas College graduate, Rolfe will be in charge of corporate sales. In 2011, he worked as a gameday intern with the Portland Sea Dogs.
After serving as the Box Office Assistant in 2013, Elsasser has been promoted to Group Events Manager in charge of corporate sales with the Baysox. The Berwyn Heights, Md., native and Temple University graduate also served as a member of the Baysox Orange Ambassadors college internship program during the 2012 season.
Miller assumes a new role as Community Programs Manager after completing a full season Mascot Coordinator and Marketing internship this past year. In his new position, the Owings, Md., native and University of Maryland graduate will coordinate the team's school reading program and other local resident business. Miller was previously enrolled in the Disney College Program in Orlando where he worked in guest relations at DisneyQuest Indoor Interactive Theme Park.
Nalley joins the Baysox as a Group Events Manager in charge of school, scout and camp events after working as an on-field promotions intern with the Aberdeen IronBirds this past season. A Catonsville, Md., native, Nalley graduated from Towson University and was a Baltimore Orioles corporate sales and sponsorship intern in 2012.
Baysox Baseball – We'll Knock Your 'Sox Off. Give the gift of Baysox baseball this holiday season with a special ticket package that includes a limited-edition Chris Tillman bobblehead and eight undated 2014 tickets. More information is available at www.baysoxshop.com. The Baysox open the 2014 season at home Thursday, April 3. To keep up with Baysox news during the offseason, visit www.baysox.com.