Mark your calendars NOW! We're excited, and it's official! The Jess Carson Foundation, in partnership with the Metropolitan Kitchen and Lounge on West Street in Annapolis, will be hosting our first ever ALL-DAY MUSIC FESTIVAL on Saturday, November 30, 2013, from 11 am to 7 pm at the Metropolitan (169 West Street, Annapolis). This funky, fun, and fabulous day will feature a full slate of the area's best musicians, bands, and singer-songwriters playing everything from original funk to jazz, bluegrass to reggae, folk and back. Tickets are $15 in advance or $20 at the door. Children 12 & under are free.
Guest artists include: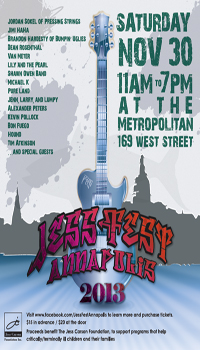 Jimi HaHa
Dean Rosenthal
Jordan Sokel of Pressing Strings
Van Meter
Brandon Hardesty of Bumpin' Uglies
Shawn Owen Band
Michael K
Pure Land
Jenn, Larry, and Lumpy
Alexander Peters
Kevin Pollock
Bon Fuego
Hound
Tim Atkinson
Lily and the Pearl
And more!
The Metropolitan will graciously donate all proceeds from ticket sales, as well as a portion of food and beverage sales, to the mission of The Jess Carson Foundation (so come hungry!).  We invite you and your friends to join us throughout the day for this fundraising event. Come for the entire time or reenter after touring Annapolis with friends and family. JessFest wristbands will allow you the flexibility to come and go as you'd like.
The Jess Carson Foundation, Inc. is a 501(c)(3) non-profit charity founded by friends and family of Jess Carson, a lifelong Annapolis resident of twenty-two years. This event will be hosted in his loving memory by those who wish to continue Jess' compassionate spirit and generous heart by aiding critically ill children, terminally ill children, and their families. It is the mission of this organization to offer hope for each new tomorrow by supporting charitable, medical, educational, and recreational programs that fulfill the special needs and interests of the families that are facing the difficult challenges of caring for a child with a critical illness. To date, we have raised over $200,000 for such programs.
We hope that you will support our efforts and join us for an unforgettable day of fun and music on November 30, or consider making a donation to this wonderful community cause by visiting jesscarsonfoundation.com.
For more information and updates, join our Facebook Group by visiting https://www.facebook.com/groups/TheJessCarsonFoundation and follow us on Twitter, @jesscarsonfoundation.
Source: Jess Carson Foundation
[do action="show-music-schedule"/]
Category: Crime News, Events, LIFE IN THE AREA, Local News, NEWS